One evening last March in Baltimore, alumnus Jordan Litz waited in the wings of a packed theater. He was about to debut as a lead in Wicked—a big leap in the career Litz hoped for at Fresno Pacific University. "My heart was in my throat," he says. He was only six years from FPU's production of The Sound of Music—his first experience in musical theater. "You have these dreams, but part of you doesn't actually believe it's going to happen the way you dreamed it," he says.
Litz, who attended 2011-2015, is one of many alumni working in the arts. They're performers, music teachers, graphic artists, screenwriters and more. Many have their own version of Litz's story. "Fresno Pacific gave me the opportunity to find who I was," he says. "I went there with the intention of being an Olympic swimmer, and I came out wanting to be a Broadway performer. I had some amazing teachers and great supporters."
Crushing it
Litz sang in choirs growing up in Stockton, but swimming was his passion. He competed for the Sunbirds and went to the 2012 Olympic trials, though he didn't make the team. Then in 2014, director Bethany Rader cast the vocal performance major as Captain von Trapp in The Sound of Music. "I wasn't the most dedicated student, but Bethany believed in me, and she guided and mentored me in what I could do. In musical theater, I found something else I could be passionate about," he says. Major roles followed in local theater companies. In 2016, Litz left Fresno for Disney World to perform and earn his Actor's Equity card. By 2020, he was the understudy for the male lead in the national touring company of Wicked. Litz goes on, as he did in Baltimore, when the actor who regularly plays the role has a night off. Asked how he did that night, Litz hesitated and then volunteered: "I crushed it." (COVID-19 put the show on hiatus, but Litz expects to return when live theater resumes.)
Magical, but practical
EJ Hinojosa (BA '16) is truly a music man.
He teaches vocal and instrumental music at Gaston Middle School in Fresno. "I want to be an effective and inspiring educator, remembered by students as someone who made them feel good about themselves and maybe inspired them to a life in the arts."
He sings in the Fresno Community Chorus. "Singing is my first love in music. It's therapeutic and good for the soul. It washes away the residue of daily life."
He is music director at Community United Church of Christ in Fresno. "I love my work in this role because it represents an intersection between two important elements of my life: faith and music. It's a ministry."
He composes music across a wide range of genres, from reverent worship songs to snappy television jingles. Commercial composition requires versatility. Clients specify a musical style plus key words and information for the lyrics. "Your job is to take those elements and create something that's memorable, stylish and informative," he says. Hearing your music played on television or other media is a dream for many young composers. "But when it happens, you also think, 'Great, that was one time. Let's do it again, and let's do it better.' The pursuit of better music never stops," Hinojosa says.
Faculty helped shape Hinojosa, and he's thankful. Erik Leung, D.M.A., former director of bands, stressed having a plan for your career. "A lot of people think being a creative professional is mostly imagination and inspiration," Hinojosa says. "There's magic in music, obviously. But to make a living as an artist means you have to be practical, be a planner and set goals."
Gospel art
It started for Alina Walker (BA '18) when she was old enough to use a computer mouse. She used Microsoft Paint to draw,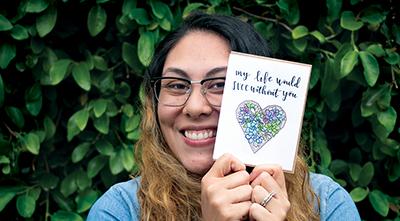 color and edit pictures. In high school, a computer class introduced the possibilities of Adobe Photoshop and Adobe Illustrator. Walker was on her way to her business, Alina Walker Design.
She grew up in the Bay Area and attended FPU because it met her love of graphic design and her love of God. Walker majored in art (graphic design emphasis) and minored in contemporary Christian ministries, believing those disciplines complement one another. "It's exciting to think how art can be used to spread the Gospel," she says.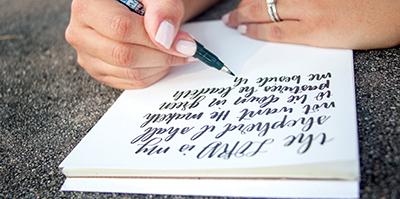 Walker describes the art program as "small but mighty." Sam Tekunoff, an adjunct instructor, tried to approximate real-world work situations in graphic design classes. Chris Janzen, M.F.A., assistant professor of art, provided a foundation in the fine art disciplines of painting, drawing and design. And Rebecca McMillen, Ph.D., chair of the Visual and Performing Arts Division and assistant professor of art, taught a career development course that proved pivotal for Walker. The course, among other things, asked students to consider their personal priorities and how to balance them with careers. Walker knew family time would always be important, and she wanted the freedom to work with like-minded clients. That pointed toward self-employment as a graphic designer and hand lettering artist.
Walker makes greeting cards, stickers and sticky notes, and she letters drinkware with short messages. "She strives to connect others and bring a little more beauty to the world, one design at a time," according to her website (alinawalkerdesign.com). Most of her sales are online, and her pastel-colored cards have a whimsical quality. Walker also does freelance projects and works as an assistant for an art teacher at a charter school. She wants to eventually devote all her time to her business and says: "I know I have the tools to go forward—Fresno Pacific equipped me for that."
Art as business
Joy Ndombeson (BA '17) arrived at FPU from his home in the Democratic Republic of Congo as an athlete with a passion for dancing. Breakdancing, to be specific. "It was a perfect way for my athleticism to meet the artistic world," he says.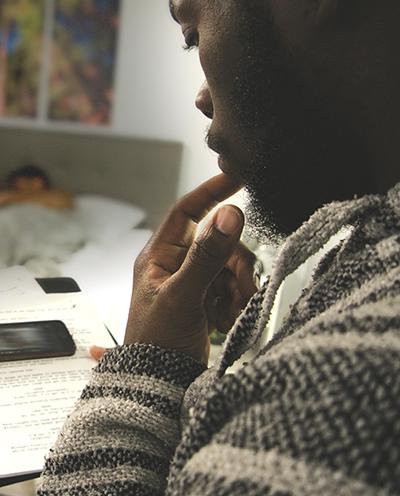 Ndombeson started as an uncertain music major, explaining: "I had arrived with a strong heart for the arts but no clear direction of where I could go with that." Faculty members, notably Rebecca McMillen, listened and offered counsel. "Every single time I opened up to a professor or adviser about my thoughts, their instinct was to be realistic and encourage me. But they went a step beyond that—they empowered me," he says. Ndombeson switched his major to arts administration with an eye to opening his own business, which he did after graduating. The business is Joy 2 De World, which offers creative services in choreography, directing and screenwriting. He also credits the career development course, which, he says, "really opened my eyes to not just being an artist but a businessman, too."
Since graduating, Ndombeson has choreographed several local productions and created choreography for local video artists. He's also written and produced short films, which he's released on his website (ndombesonjoy.wixsite.com/joy2deworld) and other digital platforms. Quarantining during the pandemic changed his focus, and he sent producers two screenplays, one a science fiction thriller set in a post-war apocalyptic future. "It's an exploration of good and evil in human nature, and the choices we make as a human race," he says. "It's also about how a few people can come together and move us in the right direction."
Never-ending music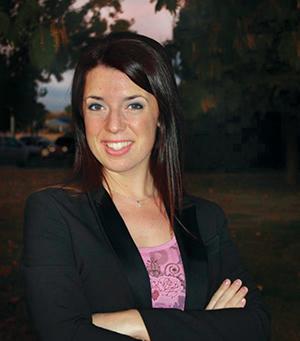 When Krista Harris (TC '09, BA '08) and her husband vacationed on the Hawaiian island of Kauai, they held a benefit concert at the only church with an organ. He played the organ, and she played the flute and sang. "We try to make a habit of setting something up no matter where we travel," Harris says. She started taking piano lessons at age 7 and began the flute at 8. By 10, she was singing with the Central California Children's Choir. As a teenager she yearned to play all instruments so she could teach others. "I was passionate about music, and it's definitely been a wild ride," Harris says. The journey took her to Clovis Unified School District, where she has taught elementary and middle school music for 11 years, concentrating on string instruments.
A music education major, Harris chose the university because she appreciated the gentle counsel of Wayne Huber, M.A., now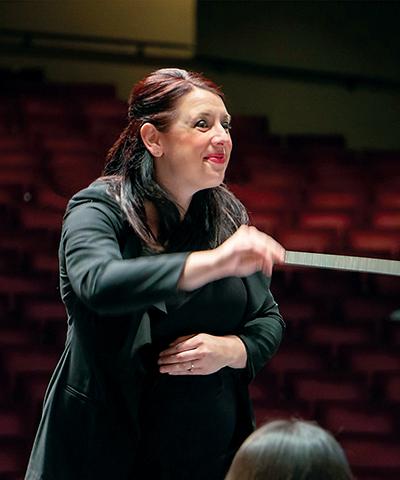 professor emeritus of music. Other universities were pushy and boastful when she visited. "Wayne advised me to pray about coming here. It was a humble approach," she says. Roy Klassen, D.M.A, also emeritus of music, was another factor. Harris had sung in a youth choir under his direction, and she knew his expertise and that he made music fun. "He has become like a second dad to me," Harris says. She's tried to inspire her students similarly and has found satisfaction in watching them grow as musicians and connecting to them as people. "The joy of teaching isn't just limited to their musical experience. It is the human experience," she says. "I do my best to mentor students first and teach music second. When you add the beautiful power of relationships through music, the joy of education is complete."
Harris performs locally in the quartet CASK along with her husband, her sister and her sister's husband. "If I don't perform myself, how can I ask my students to practice as hard as they do before a performance?" she says. "They inspire me." Another group of musicians—adults in the community New Horizons Band and Orchestra—inspire Harris, too. Last summer, she was hired as director of the orchestra, whose members range from working professionals to retirees. "Music never ends," she says. "You can literally play however long you want."
'Collective energy'
When Meg Clark (BA '17) auditioned for FPU's musical production of Little Women, she hoped to get a small role. Instead,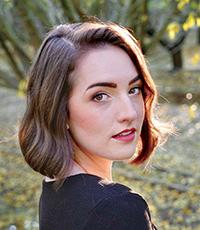 director Bethany Rader cast Clark in the lead as the headstrong and outgoing Jo March. Clark had played leading roles in high school and in Reedley's community theater. But as she says: "There was some timidness to me." Rader gave her performers valuable advice: Go big, or go home. "She really pulled me out of my shell," Clark says. "The lessons I learned in Little Women have stuck with me through every show I've done since then."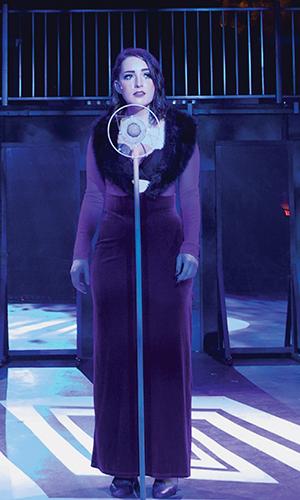 Clark earned a degree in history, and her 60-page senior project combined that interest with her love of theater. Her topic: the history of women performing as Hamlet. After graduating, she performed with several theater companies, and played to acclaim a leading role in the Selma Arts Center's November 2019 production of Cabaret. Veteran arts journalist Donald Munro, who covers Valley theater online at The Munro Review, said of Clark's performance: "Her giddy, calculated, naive and forceful characterization is a bundle of contradictions, yet she somehow blends them into a complicated whole." Munro praised the show as one of the Valley's Top 20 cultural events of 2019.
The pandemic found Clark at a crossroads. She was working in the office at Good Company Players in Fresno, substitute teaching and planning to audition for professional roles in hopes of moving to Los Angeles or New York. COVID-19 threw her out of work and killed her audition plans. But the dream remains. "Working professionally is not a linear career path," she says. Like all performers, she wonders when theater will return, but remains committed. "Musical theater taps into the human experience, and the audience recognizes some basic truth about the human condition," Clark says. "It's dozens of strangers in a room all feeling the same emotion—going on the same ride. I don't think there's anything like that collective energy."
On his way
At the end of his Wicked debut, Litz sprinted onstage for his bow. As he stood alone and applause washed over him, he had "a moment." His goals remained—performing on Broadway, and perhaps television and movies. But on that night, something he'd never forget had occurred. "I had just played my dream role," he says. "Oh my gosh. I'd done it!" Read more of Jordan's story at fresno.edu/Jordan.