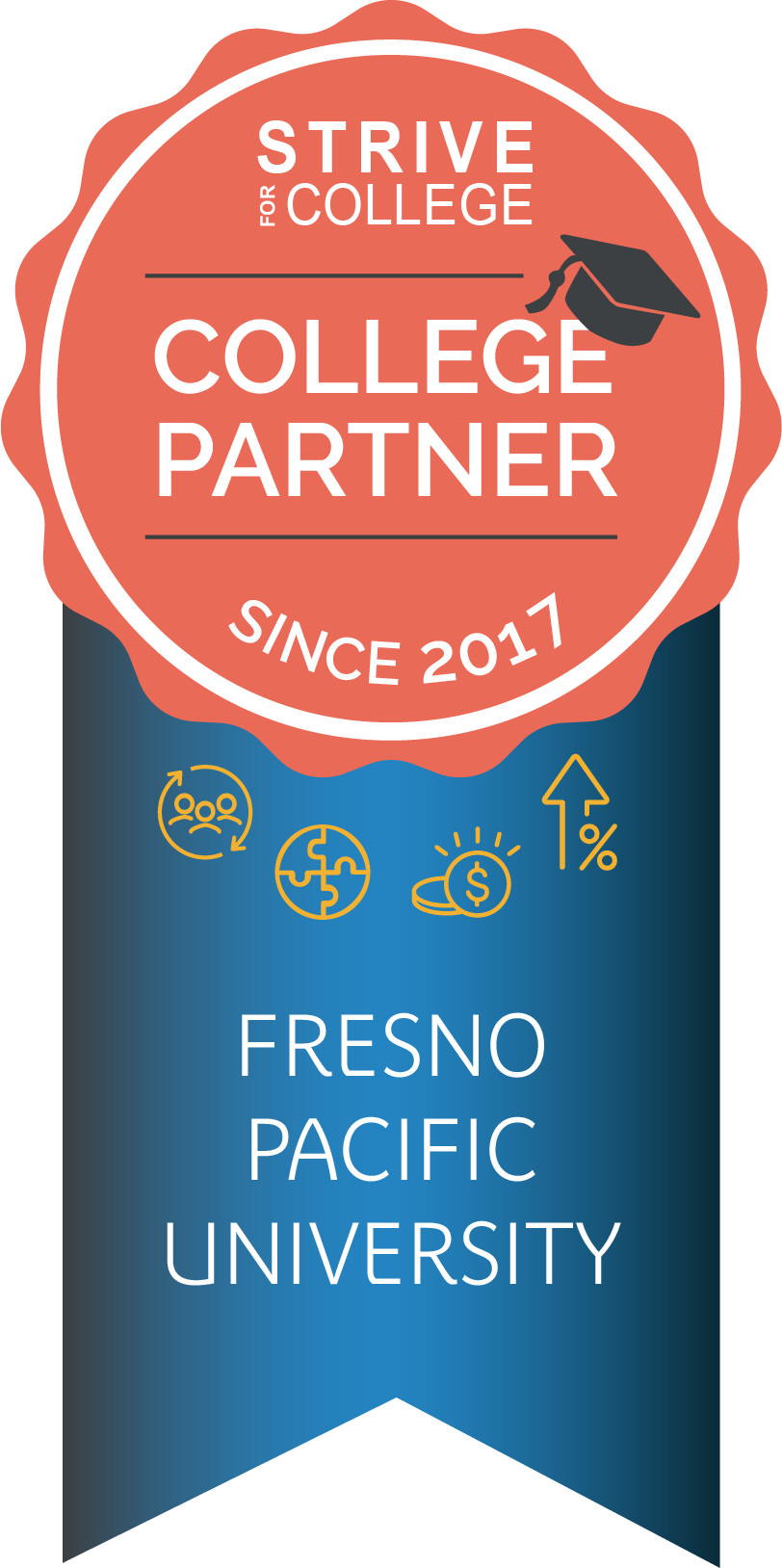 A national organization dedicated to helping students who are the first in their families to attend a college or university has honored Fresno Pacific University.
First-generation and students from low-income households continue to be severely underrepresented on college campuses, despite high educational aspirations, according to Strive for College. While over 80 percent of such students have expectations of college in the 10th grade, only 20 percent will earn a bachelor's degree by the age of 25, the association states.
Strive for College honors FPU in the areas of:
Inclusion—Greater than 25% of undergraduates receive Pell Grants, meaning at least one in four students come from a low-income family. Nationally, 32% of undergraduates receive Pell Grants across all postsecondary institutions.
Diversity—Greater than 40% of undergraduates are black, Latino or Native American.
Affordability—A net price of less than $13,500 for low-income students, which is approximately the average net price nationally for students from households with annual incomes of $30,000 or less who received Title IV federal financial aid across all four-year institutions.
Completion—Colleges that meet or exceed the national averages for retention (greater than 81% of first-year students return for a second year) and graduation (greater than 51% of Pell Grant recipients complete a degree in six years).
Outcomes—Greater than 25% of graduates from the bottom 20% income bracket moved to the top 20% over their lifetime, demonstrating among the highest percentage of students who both came from a lower-income family and ended up a higher-income adult.
Strive for College was founded in 2007 by Michael J. Carter, then a student at Washington University in St. Louis, to help acutely underserved area high school students apply to college and navigate financial aid. College students volunteered as mentors for high school students, and mentored students achieved substantially better college go-on rates than their non-mentored peers. To make a national impact, Strive for College launched UStrive in 2014 to connect aspiring college students with free one-on-one online mentoring through the entire admission and financial aid application process. Strive for College merged with the Center for Student Opportunity in 2016, and now runs ImFirst.org, publishes the I'm First! Guide to College and partners with colleges and universities to promote and strengthen their efforts on behalf of first-generation students. More at striveforcollege.org.