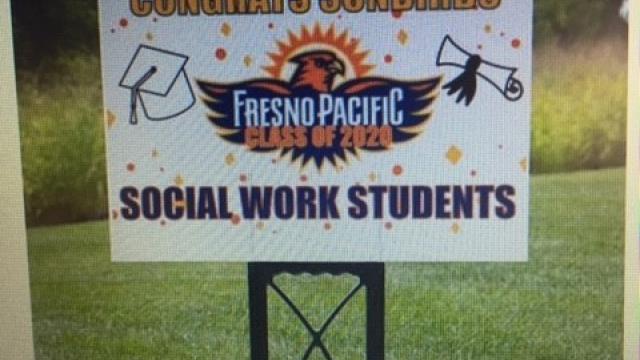 COVID-19 has put spring commencement celebrations on ice, but faculty Fresno Pacific University students and faculty are creating cool ways to celebrate. Originally set for Saturday, May 9, the graduation—which would have featured as many as 700-plus students in Selland Arena in downtown Fresno—will be combined with the annual December ceremony.
Social work
Sonia Medina Pranger, L.C.S.W., assistant professor and co-director of the traditional undergraduate social work program, and Sai Mouanoutoua, MSW, program field coordinator, are driving house-to-house Friday, May 8, to bring a little pomp and circumstance curbside to graduates sheltering in place. "We understand how incredibly disappointing it is to students and families to miss out on milestones like graduation ceremonies," Mouanoutoua said. "We wanted to create a thoughtful and meaningful alternative, so students and families can experience some of the feelings associated with walking across the stage, such as pride and elation. We did not want to forget their amazing accomplishment or disregard all the hard work it took to get here. We're so proud of them and not even COVID-19 can stop Sunbirds from celebrating."
Pranger, Mouanoutoua and perhaps some friends will hit the road at 9:00 a.m. Friday on a route including stops in Visalia, Kingsburg, Parlier and Fresno. At each residence, they will honk and make some noise and Prager will say a few congratulatory words to the graduates while Mouanoutoua plays commencement music. Students will receive a yard sign to post on their lawn declaring them graduates.
Zenia Arenas, meanwhile, has organized a Zoom graduation—complete with the wearing of caps and gowns—for her fellow graduates in the bachelor's degree completion social work program. "It's our time to shine and show the community that we can turn something negative into a positive," she ABC 30 (KFSN) May 3 (abc30.com/education/fpu-senior-class-to-hold-commencement-ceremony-on-zoom/6148249/).
Music
Lauren Nichols, Fresno music and studio art graduate, is organizing a Zoom meeting call with friends, mainly music majors, during what would have been commencement time Saturday. "It'll likely be a fairly casual meeting, but some of us will wear our caps and gowns. It helps acknowledge the achievement and celebration the best we can given the circumstances," she said.
Seminary
Fresno Pacific Biblical Seminary's annual graduation gala will also move to Zoom—some are now calling it "Zola." The celebration is scheduled for 7:00-8:00 p.m. Friday, May 8. Faculty will wear full regalia, and the entire seminary student body was invited, as well as graduates and their families. Each graduate will be recognized with a PowerPoint slide with his or her photo and information shared to screens. As the theme of the evening, Seminary Dean and Vice President Valerie Rempel, Ph.D., has chosen "A Cloud of Witnesses" from Hebrews 12:1-3, since we will be "in the cloud" on Zoom and have finished our courses online. FPU President Joseph Jones, Ph.D., is expected to "Zoom" in, as well.