A sell-out crowd of well over 400 people celebrated Fresno Pacific University's 75th Anniversary at the Gala on Saturday, November 2.
The elegant evening saw many current and former administration, faculty and staff as well as supporters in tuxedos and gowns on the main FPU campus. In the late afternoon, hors d'oeuvres including shrimp and several kinds of cheese were served on the University Green as people visited at tables and a jazz combo provide music.
As the sun set, people found their way into a transformed and sparkling Special Events Center. Music continued with a string trio and later Pacific Brass as guests enjoyed filet mignon, grilled chicken breast and a combination of delicate desserts.
The program featured a historical video telling the story of Pacific Bible Institute, Pacific College, Fresno Pacific College and Fresno Pacific University as the school grew from its original location on North Van Ness Avenue to five campuses in Merced, North Fresno, Southeast Fresno, Visalia and Bakersfield. What began as 28 students in biblical education and missions classes has grown to over 4,000 students (and 42,000 alumni) in more than 100 areas of study in traditional bachelor's degree, bachelor's degree completion, master's degree and seminary programs.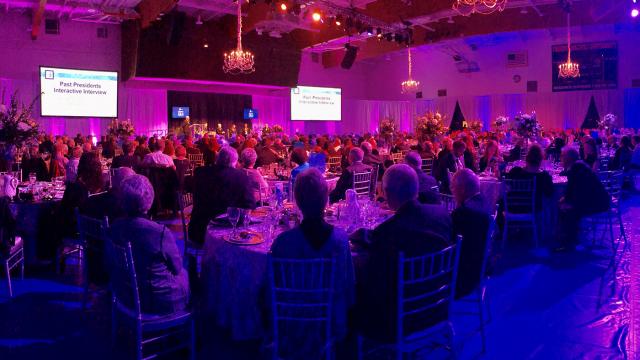 At the center of the evening were seven distinguished alumni representing the fields of health care, education, nonprofit/youth, business, ministry/human services, international relations and public service:
Dean Lee, M.D., Ph.D. (BA '87)—Physician in the Division of Hematology and Oncology at Nationwide Children's Hospital, director of the cellular therapy and cancer immunology program at Nationwide Children's Hospital and The Ohio State University Comprehensive Cancer Center, and professor of pediatrics and cell-based therapy at The Ohio State University College of Medicine
Joe Hernandez (MA '95)—Dinuba Unified School District Superintendent
Yammilette Rodriguez (MA '06)—Central Valley Director of Programs for Youth Leadership Institute
Max Steinert (BA '67)—Partner in Steinert Investments
Priscilla Robbins (BA '10)—Director of Rescue the Children
Pascal Kulungu (BA '97, MA '98 posthumous award)—Member of Parliament of the Democratic Republic of the Congo, finance director and professor at the Christian University of Kinshasa, and founder of the Center for Peacebuilding, Leadership and Good Governance in Kinshasa
Lynne Ashbeck (MA '12)—Senior vice president of community engagement and population wellness at Valley Children's Healthcare, and council member and former mayor, City of Clovis
Closing the evening was a look to the future from President Joseph Jones, Ph.D. He cast a vision for the planned Culture and Arts Center, a $13 million facility that will bring together the arts, education and service to the surrounding community and beyond.
Pointing out that Southeast Fresno, where the main campus has been located since 1960, is one of the most challenged areas of the city, and that FPU students tend to come from the most economically challenging areas of the region, Jones said the Culture and Arts Center will be a place where we create beauty and inspiration, hope and healing and peace and unity to be a transforming community.
"These facilities are not about adding to our prestige or value. These buildings represent our service and engagement.  It is a gift to our students and the people of this region. It will become a place of whole integration of the heart, mind, body and the soul," Jones said. "Not just for our neighbors, but for the whole FPU community including our alumni, our emeritus faculty, our supporters and friends."
PHOTO: Past presidents remembered their time at Fresno Pacific. From left are Allen Carden, Ph.D.; D. Merrill Ewert, Ph.D.; Edmund Janzen; and Richard Kriegbaum, Ph.D. At far right is Donald Griffith, vice president for advancement & executive director of the FPU Foundation, who moderated the discussion.