A planned house for homeless veterans and a shop that sells ecofriendly products were the big winners at the seventh Spark Tank Pitch Fest. An app to help people find work, a lifestyle brand that promotes positivity and a purveyor of gluten-free treats concerned with hunger in the community also benefitted from the event, hosted by Fresno Pacific University's Center for Community Transformation.
Patriot house and GD.STWRD were each awarded $5,000 at the November 14 event at Lanna Coffee, 617 Broadway, Fresno. WorkGnome received $1,000 and Give Culture and Tower Vegan Treats received $750 each. In addition, each team will receive scholarships to the FPU/CCT Social Enterprise Academy in January 2020. Open to the public, the Social Enterprise Academy offers a four-module curriculum taught by experienced faculty and practitioners that features mentorship and the chance to network with potential funders. More on the academy at cctfresno.org/self-sustaining-solutions/
"I felt the event was inspiring. The room was packed with people who believe enterprise can serve the common good," said Randy White, D.Min., CCT executive director. "Multiple community leaders attended, as well as financial institutions that are committed to impact investing. Fresno Pacific's Center for Community Transformation is honored to be catalyzing this innovative movement."
The capacity crowd of more than 100 people made its presence felt with crowd favorite awards, which added $10 per vote to each contestant's total. GD.STWRD earned an additional $530 and all ideas pitched received some support.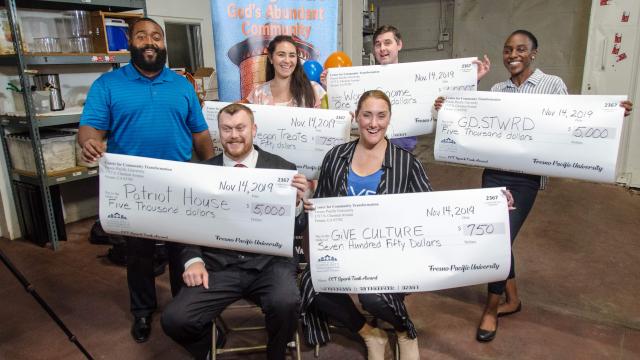 Participants were:
GiVE CULTURE
Shauna and Noel Felix dream of using branding to influence decision making in people's everyday lives through this socially conscious brand that promotes self-awareness and accountability through inspirational t-shirts and other apparel. shopgiveculture.com
WorkGnome
WorkGnome wants to bring real jobs to real Central Valley families, especially in situations where traditional job seeking is difficult, by providing a hub for communities to help people connect to work. Paul Reyes is CEO; Matt Coatney is CIO. workgnome.com
GD.STWRD
Stewardship was instilled in Alyssa Ndombeson, CEO, from a young age, and she has turned that passion into the dream of a retail space that sells ecofriendly and sustainable products in a low-package system to help decrease consumer waste.
Patriot House
Years of investment and experience give Kevin Kears, program manager, and Lee Williams, operations manager, a heart for a social enterprise focusing on safe living facilities for homeless veterans with a goal to transition them back into society.
Tower Vegan Treats
CEO Ruby Sultan desires to provide tasty, sweet baked goods for those with dietary restrictions while addressing student hunger. A portion of the revenue generated goes to support the Fresno State Student Cupboard.
Judging the event were Anthony Armour, CEO of Neighborhood Industries; Amber Balakian, instructor at Fresno City College and owner of Balakian Farms; Bryan Feil, real estate development for Bitwise Industries and co-owner of The Revue; Andrew Shinn, instructor at Fresno Pacific University and owner of Shinn Photography; and Jake Soberal, co-CEO of Bitwise Industries. Samer Sarofin, assistant professor at California State University Fresno, was unable to attend.
Since 2013, the Spark Tank Pitch Fest has empowered community members to solve community problems through social enterprises that have a financially profitable revenue stream, a measurable and managed social impact goal and a plan to operate in an environmentally responsible manner. The Valley's only social enterprise event, Spark Tank boasts a start-up success rate double the national average.
Social enterprises awarded capital via Spark Tank have generated $3.7M between 2016-2018.
A range of products and services to the community as well as jobs to more than 260 people, many of whom face challenges to employment.
The support and participation of community partners such as Beneficial State Bank, Bitwise Industries, Chase Bank, Wells Fargo, Lanna Coffee Co., and many individual donors that have helped CCT invest over $100,000 in start-up capital.
Sponsors of 2019 Spark Tank include Beneficial State Back, Bitwise Industries, Cen-Cal Business Finance Group, Central Valley Community Foundation, Every Neighborhood Partnership, JD Food, Neighborhood Industries and Lanna Coffee.
CCT connects the strengths of FPU with the resources of the region to transform cities. Part of the Fresno Pacific Biblical Seminary, CCT supports entrepreneurial creativity, spiritual freedom, economic vitality and justice, environmental integrity, cross-cultural/social collaboration and political health in the Central Valley. 
For more information on Spark Tank, contact Carlos Huerta, CCT associate director, at 559-453-2374, carlos.huerta@fresno.edu or check the CCT website cctfresno.org/social-enterprise/.                      
PHOTOS (by Andrew Feil)
The judges consider their findings at the 2019 Spark Tank. From left: Andrew Shinn, Amber Balakian, Jake Soberal, Anthony Armour, Randy White (standing), Bryan Feil and Carlos Huerta (standing).
And the winners—big smiles and big checks! From left: Lee Williams and Kevin Kears, Patriot House; Ruby Sultan, Tower Vegan Treats; Matt Coatney, WorkGnome; Shauna Felix, GiVE CULTURE (seated); and Alyssa Ndombeson, GD.STWRD.