At Fresno Pacific University, Will Dyck (BA '97) built a foundation for a successful career in development, construction and leasing.
As president of Summa Development Group he has cultivated a reputation as one of downtown Fresno's most passionate revitalization advocates. Dyck traces that professional success, and an abiding sense of giving back, to his Christian higher education.
"Fresno Pacific gave me the building blocks to be successful—it gave me the building blocks of a spiritual foundation that guides decision-making, ethics and honesty as well as an academic background of how to be a good decision-maker," Dyck says.
These sentiments are shared by thousands of FPU graduates carving out thriving careers across the professional spectrum. Alumni entrepreneurs and business owners—like those profiled here—bring more than academics to their professional lives.
Dyck's parents—both doctors—often joked that they wouldn't push him down any career path. "They said that I could be any kind of doctor that I wanted to be," he remembers with humor in his voice.
Medicine might have been his future, until FPU business professor Peng Wen, Ph.D., urged him to pursue an obvious talent in business. After finishing his bachelor's in pre-health sciences, Dyck earned an MBA from the University of Southern California. "I have more joy and happiness in my life with my career choice than I could ever imagine," he says. "I wake up every day energized and ready for the next challenge. I love it."
Dyck founded Summa Development in 1999, the name a reference to graduating summa cum laude from Fresno Pacific. Part of the company's work is developing and leasing buildings to state and federal agencies. This includes reviving vacant or abandoned historic downtown buildings, such as the old Hotel Virginia and structures along Warehouse Row. Summa has also partnered with Bitwise Industries, Fresno's homegrown technology and innovation hub.
His connection to the community, illustrated by Dyck's work in revitalizing the city's core, is personal. He is the father of three daughters and a member of FPU's Board of Trustees.
"Every alum needs to find their own mission, but the Fresno Pacific community as a whole needs to continue engaging," he says. "The university has the opportunity to transform not just the neighborhood it lives in, but also by producing people that can infiltrate every part of Fresno and every community."
Before 2009, moving was a "side hustle" for Carlos Torres (BA '19), who didn't even own a dolly when he started.
"[The client] didn't say 'well done' on my first job but they did say thank you," he recalls.
Today, Well Done Moving Inc. is a growing Fresno- based business. Torres, who founded the company 12 years ago, oversees 15 employees and thinks of his FPU education as the backbone of his success.
"I always knew that business was more than the bottom line, and Fresno Pacific underscored that," says Torres. "We contribute socially and environmentally and that is equally important."
Torres, who earned his degree in business administration, chose FPU because of its Christian roots and the opportunity to learn how to combine faith and business. "I remember on my first day of class, our professor opened up with a Scripture reading and then tied it into the lesson," he says. "It made me hungry to learn more about the Bible and figure out how to apply that to my business." He was also impressed when aprofessor handed out her personal cell phone number on the first day of class.
While COVID-19 has brought face masks, temperature checks and extra sanitizing procedures— these challenges haven't distracted Torres from his goals. Success is counted in environmental and social contributions as well as dollars and cents. For example, a program that allows struggling families to pay only what they can afford to move is another response to the pandemic. The company also helps families move into Habitat for Humanity homes, and trucks gear for Ronald McDonald House events.
Josh Bergman (BA '96) makes his living from the cycle of almonds.
The marketing graduate farms about 250 acres of almonds near Visalia with wife Michelle (Cummings, MA '01, TC '95, BA '94), and another 1,500 acres or so for other owners. He also sells trees for Sierra Gold Nurseries—his first job out of college—and is a field representative for Supreme Almonds of California.
"I wear a lot of hats, but they're all related," he says. "I love the almond industry."
Josh relies on communication, networking and competitiveness, skills he honed as a student and basketball player at FPU. It's also where he met Michelle, who was preparing to be a teacher. "Fresno Pacific was very well-respected in the liberal arts and I felt like that really gave me an advantage," says Michelle.
Both Bergmans grew up in the Central Valley and in the Mennonite Brethren faith. Josh and Michelle, who also farm cherries and operate a fruit stand with their four children, graduated with an enduring belief in community and mission.
"Our mission is basically everyone who comes into contact with us," he says. Their service includes helping plant the Pipeline Church and staying active in their children's school. "Our parents were involved in church and in leadership and we're trying to pass that along to our kids," says Josh.
He believes his career is helped by a family legacy of kindness and generosity. "It's amazing to this day how people will tell me stories of my father or my grandfather," Josh says. "It makes me realize how I act and what I do and how it's going to impact my kids and my grandkids someday."
That's also meaningful for the larger FPU family, he says. "It's important that we pass this on."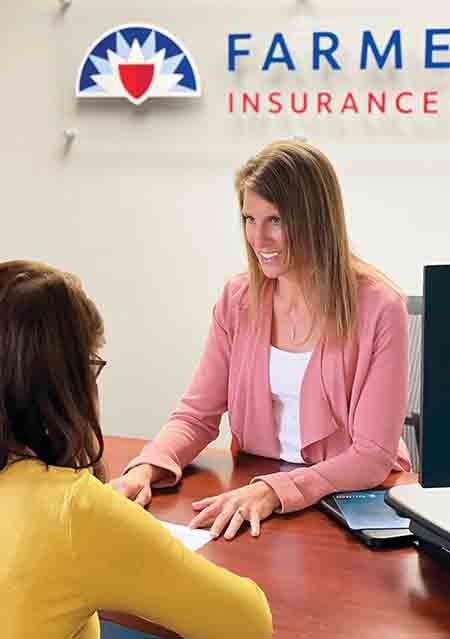 At 21, Sheila (Kamps, BA '04) Frowsing launched her insurance agency with a dose of courage, a financial assist from her parents, and her lessons from Fresno Pacific.
Those lessons "gave me the tools to run a business," says the business administration graduate. "I knew I was equipped to do this."
Today, the Sheila R. Kamps Insurance Agency (which carries her maiden name) specializes in Farmers Insurance, has six employees and is a place with values. "I wasn't put on this world to be a really good insurance agent—although I would like to do that—but that's not why I'm here," Frowsing says.
When clients say they appreciate her attentiveness, "I feel like even if I didn't communicate the Lord to them, I'm still communicating the Lord," she says.
Frowsing came to FPU from the small town of Ripon. She played basketball with her two sisters and threw for the track team. "Being at Fresno Pacific just exposed me to more diversity," she says. "It strengthened my values and my own thoughts, and also strengthened my ability to love our neighbor in ways that I had never been challenged to do."
Service projects like painting curbs or working in kids' camps opened her eyes to the value of hands- on service. Now, she and her husband, Nathan, (they have three children) are active at the Well Community Church, and volunteer with Rescue the Children at the Fresno Rescue Mission.
That program, which helps turn around the lives of homeless women and their children, "is where we have kind of planted our flag," Frowsing says. "It's a blessing to us probably more than it is to them at this point."
Driving home with his father from a job around 3:00 a.m., Alex Beam (BA '17) thought there had to be a better way.
The urgent trip to Southern California was to repair a vacuum pump for one of his father's clients. Anticipating the problem might have spared father and son that late- night drive (and many others).
That thought gave birth to Tako Inc., which creates remote monitoring systems semiconductor companies use to head off problems in manufacturing equipment. It's something like a home thermostat controlled through a cell phone.
With his father, Andy, Beam founded Tako in 2017. A communication major at FPU, he had been looking toward a career in media production when the business idea altered his path.
"Fresno Pacific definitely taught me the value of working hard, of putting your head down and getting the job done," Beam says. Classes pushed him to think dynamically and creatively—skills he taps to run the Patterson-based company.
Just as important is the spiritual grounding offered by FPU, which Beam understands as meaning a person's days belong not to them but to God. "Living in your 24 hours—that is your mission," he says, "you'd better steward that time as best you can."
Beam's mission includes working to uplift the community, and in business, especially during these COVID-19 times, that starts with Tako's seven employees. "We want to make sure that the folks working for us are well taken care of, that they're able to bring home a decent paycheck, that they are able to pay their bills and stay safe," Beam says. "That's where we want to put our focus."
United in faith and their FPU experience, graduates like these are finding ways to build up the Valley with a message of hope and service.
Fresno Pacific remains a critical part of creating opportunities and business partnerships aimed at growth, innovation and prosperity. These graduates recognize the university is much more than an educational institution.
"It's a family, it's a lifestyle and it is much more than that," says Dyck of Summa Development. "It is a service organization in its own right."
Fresno Pacific trains people to be productive members of society as well as experts in their discipline. "And that translates to everybody's mission, because you have a mission regardless of where you are or what you do," Dyck says.