A Bold New Vision for Mutual Benefit
For Don Griffith, vice president of advancement and executive director of the FPU Foundation, creating a culture of philanthropy is about more than simply raising money, it's about seeing the community as inter-connected. That means that if students succeed, then so do families, businesses and the whole Central Valley.
This concept is the foundation of a new campaign, "A Hope and a Future," that seeks to energize donors, the professional community and students to see the value of education as a catalyst for community development. Prior to his current post, Griffith chaired the FPU Board of Trustees. During that time, he was stunned by the high percentage of students whose family income was below $40,000 per year. Most of these students would be first in their families to earn a bachelor's degree. Knowing a degree could mean a world of difference in the income-earning potential of that generation inspired Griffith to develop a bold new vision for advancement: to engage donors to support these students financially, certainly—but even more to engage the whole community for mutual benefit.
Griffith knows students need internships and community service opportunities to help launch their careers. He also knows FPU is a treasure trove of training and education resources. And, as a former businessman himself, Griffith knows that the professional community needs both a strong talent pool as well as continuing education. Improving the lives of students through an FPU education and internships— as well as offering local businesses services from professional development workshops and well-trained interns to individualized consulting—could mean success for everyone. "We're all members of this community called the Valley and human capital is the best resource the Valley has to offer," says Griffith, whose plan taps the potential of people first and foremost. "When we rise, we rise together."
Alumna Jennifer Cibrian is a prime example. Throughout her college years, the accounting major took any opportunity she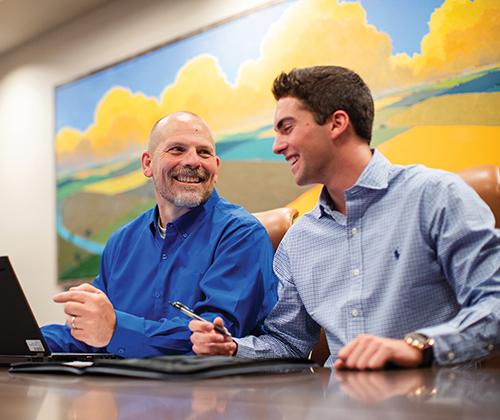 could get for professional development: participating in clubs, working as a student assistant in enrollment and interning at Gary Istanboulian, CPA. Cibrian kept her eye on the prize of becoming a professional accountant and today works at Istanboulian as a bookkeeper while preparing for her CPA license. "Having a hands-on experience changed my perspective of what it would be like to work in the field," Cibrian says.
Likewise, Gary Istanboulian calls hiring and mentoring FPU grads like Cibrian a positive experience. Istanboulian enjoys giving interns real-world experience and says he looks for the kind of traits FPU grads bring: loyalty, an eagerness to learn and a long-term view. Moreover, business owners like Istanboulian can help FPU identify gaps in curriculum to better prepare graduates for careers in their field.
These are the kind of partnerships A Hope and A Future seeks to expand throughout the Valley. They get Director of Alumni Development Ali Sena, excited: "The Hope and A Future campaign is bigger than FPU—it's about the Valley and our alumni communities." Sena knows the impact internships make in the lives of students and she's eager to inspire alumni to get involved. "I hear from alumni who say that their internship was so valuable and was one of the most important parts of their education," she says.
For Griffith and his team, the sky is the limit when it comes to expanding community partnerships. They are looking for donors, professionals and community members they can serve through workshops or consulting, and who want to invest in students through funding scholarships, offering internships or providing pathways to employment. "We are seeking to engage people where we are," says Griffith. "We see ourselves in service to the community. That's our passion. That's our goal with this campaign."