Hidden Gems
Even those who spend every day on the main campus might not know the stories of the gems existing off the beaten path or hiding in plain sight.
Three Flags
Students come to FPU from all over the world—nearly 40 countries in the spring of 2019. One way the university welcomes them is to display their flags in front of the Special Events Center (SEC).
The three flags, says international recruitment and admission specialist Ellie Carlson, include the American flag and two international flags—one representing the home country of student attending on an F1 visa, the other the home country of an alumnus. The flags are changed about every two weeks by the International Programs & Services Office (IPSO) in order to include as many countries as possible.
Celebrations—like Mexican Independence Day, Chinese New Year and even student birthdays—along with visits by international delegations and events like the 2016 Colombian peace agreement, may result in a special display. The office also monitors events that require adjusting the United States flag. When President George H.W. Bush died, the U.S. flag was flown at half-staff and the other flags removed.
IPSO maintains a collection of 70-80 flags, adding news ones when a student from a country not previously represented enrolls. Flags flown for the first time this spring, or for the first time in many years, included Israel, Italy, Japan and Senegal.
The flags are a simple gesture that reminds all students they're part of FPU. "Every student from every country matters," says IPSO Director Angela Chapa.
Moore Memorial Organ
Of all the places one might expect to find a theater pipe organ, the SEC is probably not in the list. Yet there it is, hidden away in a side closet of the gymnasium.
In 1981, Marguerite Moore donated the 1920s-era Wurlitzer—which accompanied silent films, then radio programs at CBS studios— in memory of her husband, Richard. The Moore organ includes 1,800 pipes, which vary in size from "16 feet tall and as big around as a fire hydrant, to eight inches tall and no bigger around than a pencil," says Larry Warkentin, D.M.A., music faculty emeritus. Like other theater organs, the Moore organ has sound effects ("toys") such as a train whistle, auto horn and sleigh bells.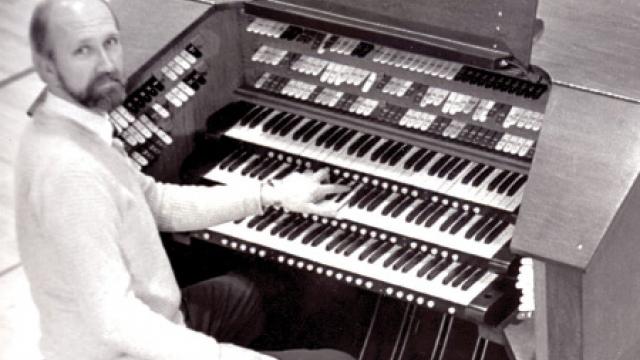 Restoration and installation of the instrument took five years and cost well over $50,000—with a significant portion donated by brothers Ron and Don Underdown. The refurbished organ was unveiled to great fanfare March 7, 1986, with a program that included a silent movie, singing waiters and organ performances.
For many years the organ was employed for special events, like graduation. Students and faculty still hear it occasionally, and are welcome to play it if they can find time around a busy athletics schedule.
Henry W. Lohrenz Library Patio Garden
Behind Hiebert Library, an ivy-covered wall away from Krause 1 Residence Hall, hides the Henry W. Lohrenz Patio Garden at Hiebert Library. While many campus buildings are named for historical figures or those who have played an integral role in the university's development, Lohrenz had no connection to the school. He was, in fact, affiliated with Tabor College.
As Tabor's first president, and executive secretary for what was then known as the Board of Foreign Missions, Lohrenz left a trove of documents upon his death in 1945, says Hiebert Library Director Kevin Enns-Rempel. When his family chose not to donate them to Tabor, some wondered at their fate.
Enter Fresno Pacific's J.B. Toews, and later his son, Paul. J.B. was a president of what is now Fresno Pacific Biblical Seminary who helped establish the Mennonite Brethren Historical Commission. Paul, Ph.D., became an emeritus history faculty at FPU and led the Center for Mennonite Brethren Studies in the library. Both felt the papers belonged in an MB institution. At first Lohrenz' daughter, Mariana Remple, was not ready to part with the documents, but was interested in memorializing her father, so FPU offered to host a memorial, hoping she would place the papers with Pacific—which she did.
The garden, created when Hiebert Library was enlarged in 1979-80, includes a wooden sculpture, a fountain and an olive tree, which was lifted over the wall via crane.
Cross in the Forest
Strolling through Alumni Plaza—also known as "the Forest"—your eye might be drawn to a simple wooden cross planted alongside the trees.
Built and designed by Fresno-area pastors, the cross was donated to the school by New Beginnings Church, an affiliate of the Mennonite Brethren Pacific District Conference, said Angulus Wilson. Created as a student Holy Week project in 2011, it became a permanent fixture.
Today the space has become a place to "gather, reflect, worship and make our prayers known to God," says Wilson, dean of spiritual formation and chief diversity officer. Outdoor worship services, concerts, classes, lectures and fellowship all take place in the area. "We are pleased with the many groups that come to meet with the Lord at the foot of the cross," Wilson said.
The cross is maintained by the FPU Facilities Office and Office of Spiritual Formation and Diversity.