Keeping the Faith and the Idea alive
Joseph Jones, Ph.D., president of Fresno Pacific University, sits at his conference table in McDonald Hall and leans—literally and figuratively—into a thoughtful conversation about FPU's future.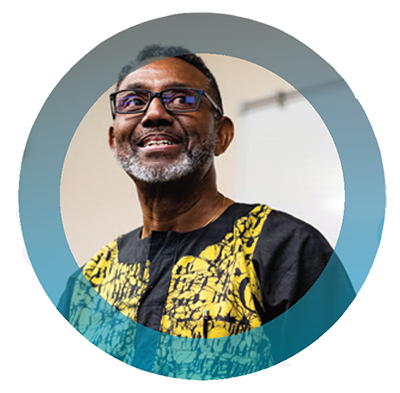 "We're not moving away from our culture. I like to say, 'we're maturing our culture.' The Fresno Pacific Idea becomes mature when it governs our work, our policies, our hiring, our teaching—all that we do."
Jones and other university leaders honor the heritage of Fresno Pacific while seeking new expressions of the truths in the Idea: FPU is a Christian school, a community of learners and prophetic. "What we're trying to do is make sure it's alive in the context we live in today and is adaptable for the future," he says.
The Idea comes alive with a growing community of learners, which now numbers more than 4,100 students on all campuses. Nearly 80 percent of our undergraduate students, including traditional-age and adults in degree completion, are transfers from community colleges. Catholics represent the largest faith tradition. "The more we grow, the more we have opportunities to prepare leaders, extend the influence of the Kingdom of God and have an impact in our communities," Jones says.
But, it's not only about numbers. "It's about how we create a transformational environment on our main and regional campuses," he says. One answer is engagement—building partnerships that link the university to businesses, health care,
school districts, community colleges, cultural groups and senior residential complexes. "In this way we get our students out in the communities of the Valley and broaden their experiences," Jones says. "You can't grow influence in isolation."
Spiritual vitality is central to Jones' vision for FPU. "Where else can students talk fully about their spirituality and where else can faculty teach the Scriptures and speak of their faith?" he says. It's the same reason that FPU welcomes students of other faiths. "There are plenty of Christian colleges that accept only Christians," Jones says. "But that's not who we are and not who we were intended to be. The Idea encourages us to be open to all."
Jones also believes a university is a place of innovation and is key to the full expression of FPU's Christian identity in the 21st century. "Innovation means we think about our methods of education," he says.
Biblical Imperative
As FPU navigates the future, two truths will never change. "We are a university founded on Christ, and we have a mission and a vision to serve the multicultural generations that live in the San Joaquin Valley," says Angulus Wilson, dean of spiritual
formation and chief diversity officer. FPU's commitment to diversity—now and in the future—is a biblical imperative, Wilson says. "The kingdom's call is a multicultural call. Jesus said in the Gospels to go into the world and make disciples."
In living out the prophetic call of the Idea, FPU must be bold, Wilson says. "We want to be a Christ-centered community that looks at the world from a biblical point of view. We don't mind speaking to systems and to communities that are going against God rather than serving God and living in harmony." Currently, that means opposing racism and policies that harm the poor as well as standing against the "abuse of visitors and strangers among us," Wilson says. "We see ourselves having a prophetic ministry to declare truth in difficult times."
But doing that can create tension. Not everyone understands the biblical world view the same way, says Valerie Rempel, Ph.D., vice president and dean of the seminary. "We seek not only to critique with that prophetic voice, but to offer a vision of God's justice and God's love for people." She adds: "It's always tempting for institutions to pull back from seeking the truth, but it's the core of what a good education is about—now and in the future." In the years ahead, Rempel believes the Idea will continue to reflect the core of FPU's identity. "It's been embraced by the existing faculty, and in a sense, they serve as its guardians and welcome in people who share in its vision."
Student Focused
Guiding Fresno Pacific into the future is personal to Joshua Wilson, J.D. (BA '96), current chair of the university's Board of Trustees. "We're stewards of the work our forebears have done, and our success will be measured
in how we hand that off to another generation," he says. "I have faith that our work will be carried forward." Wilson, an attorney in Bakersfield, adds: "Every age brings new challenges, and every generation has to find a way to stay true to its values."
The Idea captures core values at Fresno Pacific, the only Christian university founded in the San Joaquin Valley. "Our foundation is to train men and women for Christian service," Wilson says. "We have an opportunity for impact that secular institutions don't have."
The Idea captures core values at Fresno Pacific, the only Christian university founded in the San Joaquin Valley. "Our foundation is to train men and women for Christian service," Wilson says. "We have an opportunity for impact that secular institutions don't have."