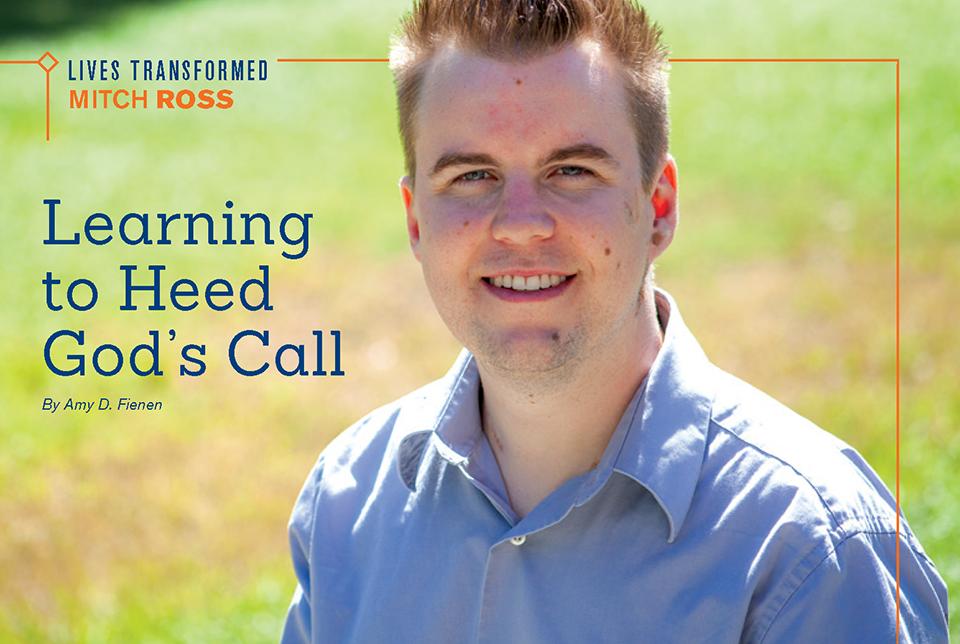 Some people begin college feeling God's call. Not Mitch Ross.
The 28-year-old care pastor at Fresno's Northwest Church earned a jazz performance degree in 2015 at Fresno State University with plans to be a touring drummer. But after countless hours in a 10x15- foot practice room under the gaze of a John Coltrane poster, Ross's joy for music waned.
As a child, Ross endured 32 surgeries for a potentially cancerous birthmark covering his back. Feeling different from other kids, he played drums to fit in. But 10 hours of practice a day could not fix his depression or give him a sense of belonging. Having grown up attending church without experiencing a relationship with Christ, a college identity crisis took Ross to rock bottom—there was no one left but God.
Randomly opening the Bible his mother had given him, Ross found a passage on every page that spoke to his heart; soon he was on his knees and weeping. "Rather than seeing scars of affliction, I was able to see brushstrokes of grace," he says.
Ross studied Scripture with a friend who was college pastor at Northwest Church. When the friend told Ross he was leaving, he also said he planned to recommend Ross as his replacement. In true Moses fashion, Ross initially cited why he wasn't qualified, but surrendered when he realized God would equip him for a job he called him to. "In that moment, I stepped out of childhood and realized God had a calling on my life," Ross says.
In 2016, Ross enrolled in the Master of Divinity program at Fresno Pacific Biblical Seminary and later began working toward a Master of Arts in Marriage and Family Therapy. Seminary has reignited his passion for church and transformed his relationships, including with wife Anna.
"The greatest thing I've learned so far is the ability to love well," he says. "I've seen how, by simply being present with people, the Holy Spirit will intervene."