Man with a Mission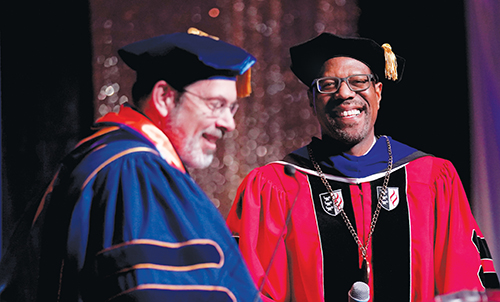 "I am called to the promise and renewal of this university," André Stephens, Ph.D., said during his inauguration as 14th President on March 31, 2023, in the Special Events Center.
In his address, Stephens recognized those who brought FPU this far, then called for a look to the future. "One of my prayers for FPU is that our imagination for the future would be greater than our memory of the past. Not that we ignore or minimize the past, but that we, collectively, would have confidence in our God who is doing something new."
The day marked one year since Stephens submitted his letter of interest to the presidential search committee. "In that letter, I shared that I still believe in the power of Christian higher education," he said.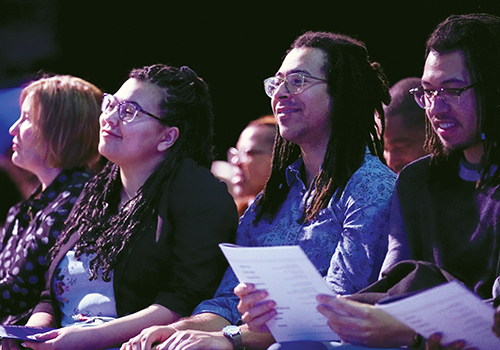 The work is to help students develop their faith and intellect. "I have many hopes and dreams for FPU, but they pale in comparison to the one singular vision that I have. That is, we would participate with God by the work of the Holy Spirit, in forming and transforming hearts,"
Stephens said.
The issues of the world are issues of the heart. "We need more kind people. People who have big hearts, not just big heads," he said.
Stephens' vision is found in Anabaptist distinctives—Jesus is the center of our faith; community is the center of our lives; reconciliation is the center of our work—and will be evidenced in the lives of students.
Negative views about the current generation are false, Stephens said. "These students are the most transformative, powerful, catalytic generation that we have seen in a long time."
Becoming president culminates Stephens' 30 years in Christian higher education, most recently as Biola University vice president for student development. He and First Lady Beth Stephens have three children.
A picnic on the Campus Green followed the ceremony before Stephens threw the opening pitch in a baseball game against Hawaii
Pacific University.