Musical Theater 1962-1987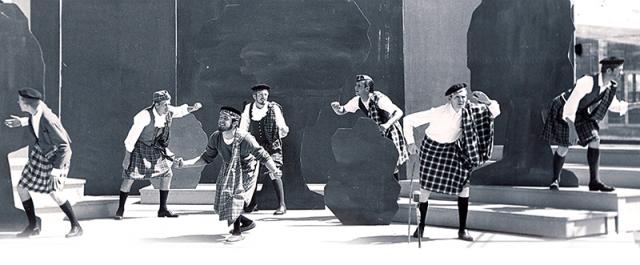 In 1966 Pacific College staged Brigadoon, directed by music professor Gary Unruh. While not Pacific's first musical (the one-act opera Amahl & the Night Visitors was produced in 1962 and 1963), Brigadoon was by far the most elaborate theatrical performance ever attempted at the fledgling college. The 30 actors (roughly 13 percent of the student body) were supported by other students in the production crew as well as the Roosevelt High School orchestra and the McLane High School bagpipers and dancers. Such a production was only possible with the 1965 construction of a large outdoor amphitheater, where AIMS Hall of Mathematics & Science now stands.
Brigadoon began a remarkable era of musical theater performances at Pacific. From 1966-1987 the college produced musicals at least every other academic year. Highlights included Gilbert & Sullivan (The Mikado in 1970 and 1982, H. M. S. Pinafore in 1971 and Pirates of Penzance in 1975), as well as Fiddler on the Roof in 1974 and 1984, followed by another in 2007.
Before 1982 all musical theater productions were in the amphitheater. In his program notes for the 1982 Mikado, director Jim Becker noted the move from a quarter to semester calendar that year might mark the end of outdoor musical theater. Quarters allowed for productions during the generally trustworthy weather of late May, but semesters would shift them to late April. Fortunately, musicals moved indoors. The Special Events Center hosted the 1984 and 2007 productions of Fiddler, as well as The Music Man (1986) and Oklahoma! (1996). Other locations were Alumni Hall, Ashley Auditorium and Memorial Auditorium in downtown Fresno. A few productions still braved April outdoors, including Into the Woods (2000), the last before the amphitheater was demolished.
Musicals became less frequent after 1987, generally taking place only about every four years, even as the student body grew significantly. The ability to produce musical theater at the scale it did during the 1960s and 1970s was yet another example of Pacific College "punching above its weight."