New leaders fill key positions in advancement and enrollment
A pair of key leadership roles has been filled at Fresno Pacific University with the hiring of vice presidents in advancement and enrollment.
Liz Garvin (MA '05) has accepted the position of vice president for advancement, and Brad Camilleri as vice president of enrollment management. Both started work in August.
"Liz and Brad couple deep knowledge and experience in their respective areas of expertise with new ideas for the future," said FPU President André Stephens, Ph.D. "I am excited to work with them to chart the future of our university through these challenging yet exciting times as we find new ways to support and advocate for our students."
LIZ GARVIN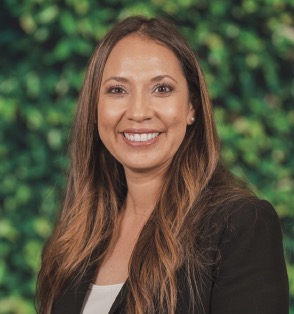 In her 20 years of fundraising and nonprofit management in Fresno, Liz Garvin has worked with university administrators and faculty, elected officials and community leaders while building relationships with foundations, sponsors and donors.
Garvin's most recent position was as a manager III/fundraiser for the Foundation for Fresno Unified Schools. Since October 2022, she served as the sole fundraiser for FUSD, working in the foundation, developing policies and procedures, overseeing staff and creating giving campaigns.
Prior to her role at FUSD, Garvin was senior director of planned and foundation giving at California State University, Fresno from 2015-2022, where she worked with the university president and top donors as well as managing staff. Other positions have included director of mediation at the Better Business Bureau Fresno office from 2007-2012 and president/CEO of Samaritan Women (Rescue the Children) in Fresno from 2003-2007.
She has an M.A. in Christian Ministry from Fresno Pacific Biblical Seminary and a B.A. in Communications Studies from California State University, Sacramento, as well as several professional certificates from FPU, United Way of Fresno, San Joaquin College of Law and Pepperdine University in conflict management, mediation and grant writing.
Liz and Brad couple deep knowledge and experience in their respective areas of expertise"
BRAD CAMILLERI
Brad Camilleri comes to FPU from Biola University, where from 2018-2023 he was director of marketing strategy and client services. There he was charged with casting the enrollment marketing vision and strategy across undergraduate, online and graduate programs and extending the reach and influence of the university's marketing and enrollment efforts. He oversaw a team of account executives and client services specialists that connected with key leaders.
Also at Biola, Camilleri served as director of admissions marketing, data management and research from 2015-2018 and associate director of undergraduate admissions from 2012-2014. Before that he was assistant director of admissions at Asbury University from 2009-2012 and senior admissions counselor at Asbury from 2005-2009. Camilleri has an M.A. in English Language and Literature from the University of Kentucky and a B.A. in English from Asbury University in Wilmore, KY.