FPU's partnership with a new university will help fill a void in medical care.
California Health Sciences University and Fresno Pacific University are working together to bring the future of pharmacy to the Central Valley.
To those who remember, the past is a kindly business owner at the soda fountain as the pharmacy counter. "People called him Doc," says CHSU professor Robert Clegg, Ph.D.
The present is a man or woman juggling lines of customers at the drive-in and walk-in areas of a chain store. If the pharmacist of the present looks tired, it's because he or she is likely putting in extra hours to keep up with increasing demand. "There's something of a shortage of pharmacists in the Central Valley," says David Hawkins, Pharm.D., vice president for academic affairs and dean of pharmacy at CHSU.
Karen Cianci, Ph.D., dean of the FPU School of Natural Sciences, agrees. "Most pharmacists are working double overtime," she says.
Very soon, pharmacists will be members of the primary care team, working directly with physicians. "It's not just dispensing medications, it's taking care of patients, which is a much more rewarding career," Hawkins says.
The universities have entered into a partnership where FPU pre-pharmacy undergraduates transfer to CHSU after three years and complete their four-year doctorate of pharmacy program, saving one year of study and resulting in degrees from both institutions. "We would reserve seats for those students," Hawkins says.
Building a university
That future is taking shape at 120 N. Clovis Ave., Clovis, where CHSU—founded in 2012 and the only pharmacy school in the region—has one building of 32,000 square feet and plans for a second. But enter the lobby and see the dream: a painting of Millerton Lake, where CHSU plans a 179-acre campus that would ultimately include a medical school and a school of allied health producing physician's assistants, occupational and physical therapists and nurse practitioners.
Current facilities include two seminar classrooms, a library with both books and computer terminals, a student lounge, study rooms, research lab and faculty offices where 15 faculty teach 72 students. Major funding comes from the Assemi family, owners of Granville Homes, which since 1977 has built more than 5,000 homes in the Central Valley. A $75,000 gift from Walgreens has allowed for a pharmacy practice lab with five exam rooms, sterile and compounding labs. Throughout, the décor resembles a high-end medical specialty practice or professional venue with walls, art and carpet in muted tones.
The curriculum is as forward-looking as the facilities, built on "team-based learning." "We don't lecture to our students, because students don't learn in a lecture; they memorize. I want to get them involved," says Hawkins, who has spent 40 years as a professor and administrator in pharmacy and medical schools in Texas, North Carolina, Georgia and California.
Team-based learning was invented more than 30 years ago by a business professor at the University of Oklahoma. Hawkins used it in his previous position as dean of the California Northstate University College Pharmacy, and has edited a book, Team-Based Learning Guide for Faculty in the Health Professions, as well as a student guide. Among the attributes of team-based learning are class discussion and assignments and examinations given to teams as well as individuals that engage students more than traditional classes.
The partnership builds on FPU's strong science program and general education courses in the arts, professions and social sciences.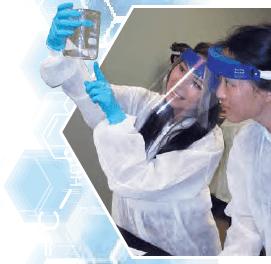 Professionals for the Valley
CHSU plans to increase enrollment to 320 in the next four years (and double the faculty)—that's where FPU comes in. Hawkins has already visited FPU and met with students. He was impressed. "They asked great questions and had great comments," he says.
Like FPU, CHSU is in the Central Valley to transform lives and communities in this region. While many new pharmacy graduates gather experience here, then move somewhere else, CHSU hopes to prepare local students for careers in local communities. The partnership builds on FPU's strong science program and general education courses in the arts, professions and social sciences. Another boost for FPU students is a gift from the Isnardi Foundation, founded by Vince Isnardi, himself a Fresno pharmacist, to fund two paid summer internships. "We're recruiting for the Valley," Cianci says.
Now is an exciting time to become a pharmacist. The need is great, salaries start at $128,000 in the area and California law has elevated pharmacists to provider status. "They can't diagnose, but they can manage," says Clegg, associate professor of administrative sciences at CHSU.
Recent trends, including Obamacare, require each physician to oversee more patients, delegating some tasks to other medical professionals, including pharmacists. At the same time, people are looking to pharmacists for more than just medications. "They're asking, What can I do to lower my blood pressure?" Clegg says.
Pharm.D. graduates are ready to work in community and hospital pharmacies, prisons, the military and at pharmaceutical companies in sales or research and development. "It's a pretty broad field, there's a lot of opportunity," Clegg says. "We're starting right now to change the face of pharmacy in California."
Editor's note
Shortly before this article went to press, David Hawkins announced his retirement from CSHU, effective in July 2015. Wendy Duncan, senior vice president for academic affairs and provost, will serve as interim dean of pharmacy until a replacement is found. More here.