Scoring the Ultimate Goal: Instilling Faith, Confidence Through Youth Sports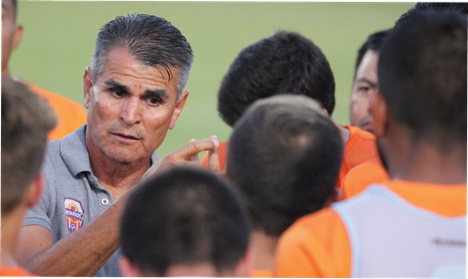 In the early 1990s, Jaime Ramirez (MA '96, BA '81), Fresno Pacific soccer coach, had
a vision to reach youth in the community through soccer. The program he imagined would offer free and low-cost coaching support to predominantly underserved youth, while developing FPU's future recruits. By the late 90s, Ramirez' longtime friend, Silvestre Arias, took notice. "He's been like a brother to me ever since arriving from Mexico," says Ramirez. The two played together and Arias knew the value of investing in youth sports.
Arias, a board member of the Bertha and John Garabedian Charitable Foundation and father of an FPU player, advocated with the foundation to provide funding for the youth program as a way to impact the local community.
And impact the community it has.
The foundation has donated more than $170,000 to FPU since 1998. Those funds have allowed local kids to participate in clubs and clinics, advance to tournaments and even compete for state cups. The support has also offset coaching and education fees.
The satisfaction is in knowing that the community benefits.
Silvestre Arias
Several FPU players who benefitted from the foundation's generosity have gone on to head coaching positions at local high schools, with some winning CIF championships. "It was no question for me to support Jaime's efforts," Arias says. "The satisfaction is in knowing that the community benefits. These kids go on to become better citizens, and many have the opportunity to go to college through soccer scholarships."
A lover of the game, Arias still plays at age 70. "When you love a sport, you keep at it," he says with a laugh. "As soon as I'm in my cleats and on the field, I'm ready." Arias knows the game instills integrity, grit and teamwork. And he loves that FPU teaches soccer skills with an emphasis on faith. "[My faith] shaped how I played and how I was perceived as a player," he says.
When Ramirez reflects on the Garabedian Foundation's 25 years of partnership with FPU in youth sports, he recalls his early days as a student-athlete and instructional aid for Calwa Elementary School. Ramirez would go outside and play with the kids during recess. "I had so much fun with them," he remembers. "I could see how much they loved the game, even at that age and it just planted a seed in my mind."
That seed grew as Ramirez became head coach at FPU and invested in son Orlando's school soccer team; it came to fruition when Gary Nachtigall, then the athletic director, gave Ramirez the go-ahead to run a couple of youth soccer teams as an outreach. That program grew from two teams to 12, with boys and girls ranging in age from 11 to 19.
"It was about giving back to the community; giving an opportunity to families who couldn't afford it otherwise," Ramirez says. "As far as the monetary investment? The return far surpasses monetary value. The value is exponential."