The Secret Life of Student-Athletes
Soccer superstar Megan Rapinoe plays guitar. Arizona Cardinals wide receiver Larry Fitzgerald is a photographer. And former Chicago Bears linebacker Lance Briggs has written comic books. Though better known for their accomplishments on the field, when it's time to unwind from high-stakes athletic competition these athletes turn to other—often unexpected—pursuits. Hobbies provide an escape, says FPU freshman basketball player and artist Lydia Manu, "Sometimes amidst high competition, one needs a break from the pressures and stress."
Jaime Ramirez
Jaime Ramirez thinks his affinity for working with leather must be in his blood. As a child in Mexico, the FPU head men's soccer coach wore cowboy boots and played with a leather soccer ball.
When he came to the United States to live with his grandparents, Ramirez had to choose a high school elective each year. "One year I took home ec. and another year mechanical drawing," he recalls, "and in my junior year I decided to take a leather class. It was a semester, but I loved it so much I took it for a full year. I really took a liking to the idea of working with my eye-hand coordination in designing something."
Eventually Ramirez crafted leather wallets and other small items for family members. He put the hobby aside after high school until, teaching elementary school in the late 80s, he had the opportunity to sign his class up for a two-week leather course with an outside instructor. It reignited his interest and inspired him to purchase supplies and kits and learn enough about the craft to teach his students himself.
In the mid-90s Ramirez, now full-time at FPU, was inspired to pick up his tools again, to craft keychains with the university crest for his soccer players and superhero- themed keychains for his children. It's been about 25 years since Ramirez started making yearly presents for his team—keychains, bag tags and other small items stamped with graphics designed in coordination with FPU's graphics department. He also makes bookmarks for his non-athlete students and gifts for others on campus. "It's one of my ways of sharing something I love to do with my students and my team," he says.
He shares his hobby with his family, as well. "My grandkids, they come over and they'll go, 'Papa Jaime, can we go make leather?' It's a lot of fun. They'll take a piece and carve whatever they want; they really are an inspiration to me and I get to—at least for right now— have that experience and hopefully pass it on," he says.
Raine McKeython
Like many of us, Raine McKeython learned to cook by watching his parents. The basketball player, who transferred to FPU from Florida's Stetson University, recalls watching his father, who, he says, could "make anything without using a recipe," but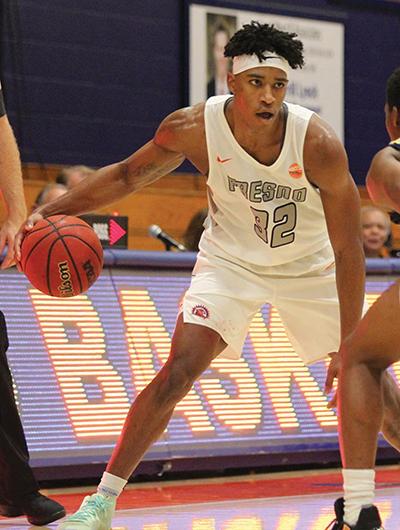 admits he wasn't necessarily interested in cooking for himself. That changed when he got to college and saw many of his teammates choosing fast food.
"Growing up I didn't get a lot of fast food," he says. "I kind of wanted a home cooked meal." McKeython began experimenting, finding recipes and putting his own spin on them.
Eventually, he began sharing his kitchen creations with his roommates, then other teammates. His specialty? McKeython says his family loves it when he makes steak, but his favorite type of food to cook is Italian.
"I get creative by using all different types of noodles, all different types of sauces. You can put your own spin on it where it may not even be Italian anymore. I like making my own meatballs and that's really fun because you can just put anything in there you want. You can use old bread that's kind of stale and if you put enough flavor in there it'll be good. It kind of all comes to me when I'm thinking about it," he says.
McKeython is pursuing a degree in finance, and says he'd also like to play basketball overseas. For now, cooking remains a hobby his friends and family appreciate. "I think it's fun and if it works you can always cook it again," he says.
Lydia Manu
Basketball is a family affair for Lydia Manu, whose father coached her high school team and whose siblings and cousins play as well. Art, however, she discovered on her own.
Manu recalls loving drawing as a child, and even sold her drawings of video game characters on the elementary school playground. Just as with sports, the more she practiced, the better she got. And like many, she finds inspiration in favorite stories and media. "A lot of my artwork stems from the shows I watch," she says. "My siblings and I watch anime, so I tend to draw characters from those shows." Her favorite piece is a pencil sketch of the character Itachi from Naruto.
And while basketball may be the family's "thing," it turns out Manu's way with pencil and paper may be inherited, too. "A couple years ago I found out my mom was a talented artist," she says. "I told her to draw me something, anything, and she handed me a picture of a beautiful mask. Seeing how talented she was inspired me to continue this hobby, because the results were simply beautiful."
Like Ramirez and McKeython, Manu uses her hobby to relax and engage her mind in a different way. "Drawing gives me an opportunity to let loose," she says. "I'm free to create whatever I want. Every time I look at a drawing, it brings back memories and makes me smile."