Sunbird flies in pro soccer
The Riverhounds play in the USL Championship—the league just below Major League Soccer. As a Sunbird, Anthony Velarde, a midfielder, captained the team his junior and senior years, recorded 24 goals and 44 assists and holds the NCAA Division II record for most assists in a single season, as well as the PacWest conference record for all-time career assists.
Soccer is a Velarde family sport. Like his older brothers, the Reedley High School graduate grew up playing for club and school teams. It was through his older brother Eric (TC '17, BA '15) that men's head soccer coach Jaime Ramirez met Anthony.
The first thing Ramirez noticed about the younger Velarde is that he was a leftie. "In soccer we love lefties," Ramirez says. "Lefties are special. They have a different brain command, so to speak, when it comes to handling the soccer ball."
Ramirez saw Anthony becoming a go-to guy under Eric's coaching at Reedley High. "It was a natural recruiting process to bring another member of the family in," Ramirez says.
From high school to college, however, was an adjustment in every way for Velarde. "It was a huge change as a student, a person, as a player," he says. "They were bigger than me, stronger, faster."
Adapt he did, under the mentorship of Ramirez, his brother and other players, to soccer and beyond. Ramirez taught him that if you really want something, you have to feel what it is to not have what you have, and have a goal in your mind to really feel where your goals are. "He helped open my eyes to see that soccer isn't the only thing in the world," Anthony says.
Velarde put that wisdom into practice when a hip injury cost him his junior season, coming back in a big way the following season as a red shirt junior. During his sophomore season, Velarde had posted one goal and six assists. After his surgery, he was responsible for 10 goals and 13 assists.
"He came back with two fantastic years that saw him step into the role of team captain, team leader and arguably the best midfielder in the entire PacWest," Ramirez says. Now among the top two or three players in the country, Velarde attracted professional interest from Pittsburgh and San Jose.
Many players are content to play for local clubs or coach after college. Players like Velarde aim higher. "There have to be greater goals because there are wider opportunities to play," Ramirez says. "Stepping away from your area, proving you can play anywhere in the country or world, is really a challenge."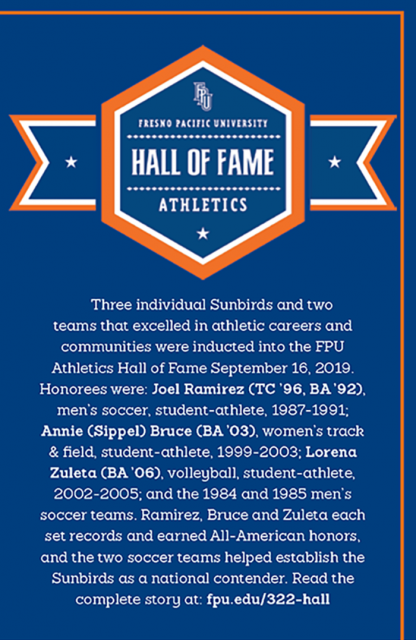 Velarde was ready for the challenge when he moved to Pittsburgh in early 2019 to begin training for a season that began in late March and included an appearance in the U.S. Open Cup. "People expect a lot from you," he says of the difference between college and pro-soccer. "There's all the pressure you get from the coach, the fans, the media," he notes. "People want to see a good game; they want to see wins."
Velarde takes it in stride. "I love playing under pressure, with things on the line, when things matter," he says. "It's exciting for me. It's exciting the club is trusting me to represent them, to be that person."
While adjusting to a higher level of play, Velarde has been adjusting to representing a franchise in a city with a storied professional sports history—Pittsburgh's baseball, football and hockey franchises have all delivered championship wins. "You see the Steelers stadium there, you see the Pirates' baseball stadium right next to ours. It's a cool environment they created, and something I'm proud to be a part of."
In his downtime, Velarde enjoys Pittsburgh's museums and zoo, and walks in his neighborhood. "It's a crazy change in my life," he admits. "I went from growing up in a small town, to getting a professional contract. I've always wanted to live this life of doing what I love doing for a living. That's a dream come true for me."