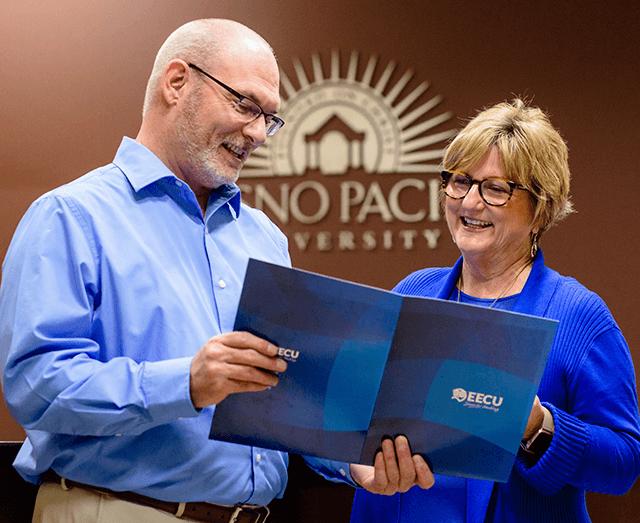 The wisdom and experience of nontraditional educators are being shared throughout California via Fresno Pacific University's Designated Subject Elective (DSE)/Career Technical Education (CTE) credential program.
"We are training professionals to be teachers," says Vicki Pontius, Ed.D., the program's director. "We are filling these professionals' toolboxes with instructional strategies. We are bringing business and industry professionals with real-world experience into the classroom."
Vocational education—now CTE—benefits communities as a whole. "Studies show that students who take CTE courses in high school are better prepared for college and career, and the focus on cooperative group learning and career planning helps point young students in a solid direction," says Pontius.
While the face of CTE is changing, the opportunities remain real. More traditional trade programs may seem to have faded from mainstream education, but California districts are on the lookout for business and industry professionals to teach the next generation.
Also changing with the times is how instruction is delivered to credential students, who teach while completing their coursework. DSE has been revamped so students may take all eight courses online and earn their credential in 18 months. New groups of students start every month. Program staff Denise Fink and Phonekham Douangmala also provide counseling and technical support, respectively.
"We are committed to equip candidates all over California with the skills and strategies needed to transition from business and industry into teaching," Pontius says, "and to provide behind-the-scenes support helping our candidates be successful in what is for many their first online experience."
With three credential areas—CTE, special subjects and supervision and coordination—DSE empowers seasoned professionals with the academic and skills-based knowledge needed to pass on what they have learned.
One professional who shares his expertise is Mike Jones, member education director at Educational Employees Credit Union (EECU). "I spent many years as a traveling guest presenter in classrooms all over the Valley," he says.
Jones credits his CTE teaching credential from FPU with earning him his current position, in which he communicates with schools, districts and community groups on behalf of EECU programs. Jones now has what he likes to call "the high honor of presenting financial literacy curriculum to over 7,000 students each year" as a CTE credentialed teacher. "I am invited back to the same schools by the same teachers semester after semester, year after year. By sheer word of mouth, my presentations have grown in demand and reach from Merced to Tulare. EECU and the community as a whole benefit when the community has a higher level of understanding of their financial health," he says.
In addition, Jones says his education helps him create lessons that reach a wide range of audiences and keep interactions with students fresh and enjoyable. This sensitivity to teaching people what helps them in ways they enjoy is critical, says Pontius. "It's important to keep up with the times, to listen to the community's advice and to model what they need."
The instructors and their students may be nontraditional, but with the help of the DSE/CTE program, both can benefit from a university with a tradition for education.
Designated Subject Elective Fields
Agriculture &
Natural Resources
Arts, Media & Entertainment
Building &
Construction Trades
Business & Finance
Education, Child Development
& Family Services
Energy, Environment
& Utilities
Engineering & Architecture
Fashion & Interior Design
Health Science &
Medical Technology
Hospitality, Tourism
& Recreation
Information &
Communication
Technologies
Manufacturing &
Product Development
Marketing, Sales & Service
Public Services
Transportation
EECU shares legacy
As part of its investment in its region, Educational Employees Credit Union has made a generous $65,000 multi-year commitment to FPU, including $13,000 in 2018. "EECU shares Fresno Pacific University's commitment to service. We are proud to work together. I look forward to our partnership leaving a lasting legacy in the Central Valley," said Karin Chao-Bushoven, FPU director of major gifts.
These gifts support
Designation Subjects Education
Sunbird Athletics
Shehadey Dining Hall Renovation
More about giving to FPU at
giving.fresno.edu