Team IMPACT Draft Day
Sunbirds Find it Works Both Ways
Fresno Pacific University signed its youngest recruits in a special ceremony in November 2018. D.J. Bledsaw, 8, and Norah Kerr, 7, each signed a National Letter of Intent, a two-year contract signifying their commitment to the men's and women's basketball teams, respectively. Later the new Sunbirds suited up for their first games as official NCAA athletes.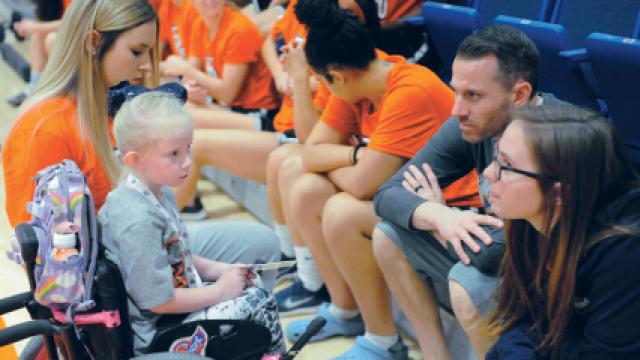 It was all part of Team IMPACT Draft Day, sponsored by Vertex Pharmaceuticals. Team IMPACT is a national nonprofit that connects children with chronic and life-threatening illnesses to local collegiate athletic teams.
The program "provides the kids with hope, and a sense of connectedness and belonging in the community," says Lynn LaRocca, LICSW, a Team IMPACT case manager. "In athletes, we see and increased empathy and civic-mindedness." The result is a mutually beneficial relationship important to FPU student-athletes and Team IMPACT recruits alike.
Sunbird athletics has been recognized by the NCAA for campus and community service, with students racking up 3,090 service hours in 2017-2018. Partnering with Team IMPACT was a natural fit, says men's basketball head coach, C.J. Haydock (BA '10). "As student athletes we feel it's really important that our guys are leaders in service. The opportunity to develop a long-term relationship that we could invest in, with somebody we could rally around, that was a pretty easy yes," he adds.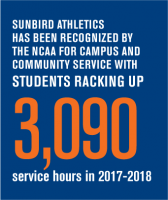 Haydock is quick to dispel the notion that D.J. and Norah are Sunbirds in name only. They participate in as many team activities as possible, including practices and team meals. D.J. enjoys shooting baskets with the rest of the men's team. "He's actually quite talented—he can really play," Haydock says.
The youngsters wear their Sunbirds gear to games, where they sit on the bench and participate in huddles with fellow teammates. And they enjoy fellowship off the court, as well. Some of Norah's teammates have attended her dance recitals.
Haydock says the student athletes have benefited as much as D.J., who lives with cystic fibrosis. "There's an opportunity to learn and grow from D.J. He has this undying, endless amount of energy and enthusiasm in the face of medical challenges. It's an opportunity for our guys to count their own blessings, and learn to navigate and be inspired by that," he says.
The women's team has had a similar experience with Norah, who has Dandy-Walker syndrome. "Norah has a glow about her when she's around our team, and our girls have that also," says women's basketball head coach Tim Beauregard. "The relationship really goes both ways. It's really what our program is based upon—the best types of leaders are leaders that serve the need around them. We've served a need for her and she's definitely served a need for us as well."
"I think it feeds into our ethos of service, and the opportunities we get as college athletes—the benefits and privileges that come with it," Haydock says. "We would like to share with the community and see it paid forward, and bring along as many people as possible."
Both teams are very committed to the children they are matched with. "They just go above and beyond. It's wonderful to see that really simple human acts can be so life-changing," LaRocca says.
The partnership with Team IMPACT is a two-year commitment. But Beauregard has a feeling his team's relationship with Norah will outlast her contract: "For all that she's been through, she's such a beacon of light and has so much positive energy," he says. "I think we will keep her around for many, many years because of the benefits we all get from it.