Ties of Faith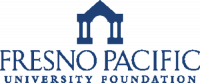 To learn how you can
participate, contact:
Mark Deffenbacher, CFRE,
Executive Director
Fresno Pacific University Foundation
559-453-2239
|
mdeffen@fresno.edu
Family, church and service are the three strands in David and Carol Jost's cord of faith. Honoring that faith means giving through, as well as to, the church. "Church ministries share our basic values and Christian philosophy," David says.
That's why they created a Charitable Remainder Unitrust with properties they owned in Shafter and San Luis Obispo to benefit:
Fresno Pacific Biblical Seminary
Fresno Pacific University Foundation
Mennonite Brethren Missions
Mennonite Central Committee
Mennonite Brethren Foundation
Mennonite Disaster Service
Children to Love, an international children's relief organization
David and Carol honor the lives of his parents, Chester and Clella Jost, and the legacy that continues through generations of the Jost family, for whom FPU's Chester and Clella Jost Family Hall is named. "That's always been at the heart of what we've wanted to do," David says.
Let the Fresno Pacific University Foundation help you combine tax and retirement advantages with your commitment to Christian higher education.