Too Busy to Retire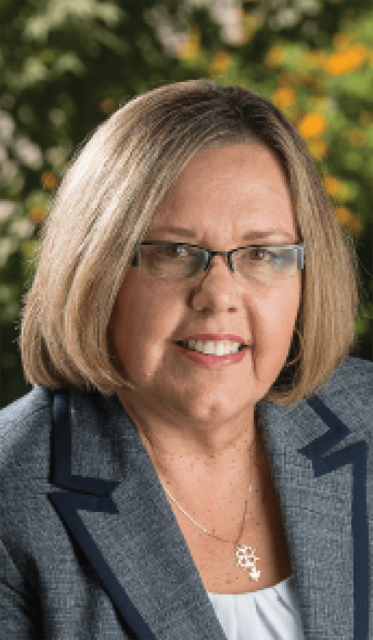 Eva Pauls wasn't expecting more company. The Kansas home was already packed for her family reunion and 60th anniversary of her marriage to Adonijah.
Fresno Pacific has no better friends than the Pauls: alumni, employees and supporters. Still, Eva suspected nothing as she stood on the porch and watched the two strangers come up the driveway. "Then she saw it was us and let out a big scream," Joan Minasian remembers.
"Us" was Minasian, director of annual giving, and Ali Sena, director of alumni relations, crashing the party. "That was an incredible experience," Minasian says. "People came up to us and said, 'You're the people from FPU.'"
That's Minasian: building relationships, spreading the word about FPU and, as she says, "making a rumble."
When Minasian joined advancement in 2007 she saw FPU as the capstone of a philanthropy career that started at Pilgrim Armenian Congregational Church, developed at Older Americans Organization and culminated at the American Cancer Society as vice president for annual giving in California. But the cancer society schedule of workweeks in Oakland, weekends at home with husband Marty and the 99 both ways took a toll.
"Marty says, 'That experience taught you what you were made of,'" Minasian says. She decided she was made of home. "That rekindled a stronger love for this Valley," she says.
Over 11 years at FPU Minasian was director of a campaign, community and corporate development and annual giving. Events were her love. "I'm a relational person and those things are so meaningful to me," she says.
Whatever she did, Minasian enjoyed those she did it with. "I got to work with some incredible people. I was also touched by a large number of students and their journeys," she says.
She retired in January 2018, but hasn't learned what that means. "A girlfriend texted me and asked, 'How do you like retirement?' I texted back 'Retirement? Retirement? What's retirement?'"
Minasian is involved with the Fresno State Humanics Program and is a certified BoardSource consultant and trainer. Her life, and the example of mother Grace Hensleit, ignite Minasian's passion to prepare future philanthropists. "That energizes me," she says.