In Touch With Alumni
General Announcements
Hannah Little (MA '22, BA '17) was the Madera County Superintendent of Schools Distinguished Teacher of the Year for the 2021-2022 school year.
Adriana Soto (MA '22) is the senior vice president of workforce training for Bitwise Industries in Fresno.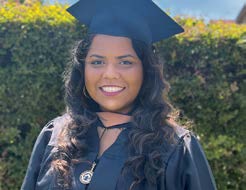 Bianca Torres (MA '22, BA '18) works for Follett Higher Education as a store manager at Merced College Bookstore. She is also enrolled in Liberty University's Ph.D. in Organization and Management program. She is a proud Samaritan Scholar alumnus and grateful for the mentors and wealth of knowledge gained through both her degrees at FPU.
Kristen Patterson (BA '21) is chief operations officer at GC Roofing in Fresno.
Alysha Kelly (MA '20) is a school counselor for Learn4Life.
Michael Lipps (BA '20) is a mental health professional for Dinuba Children's Services.
Cynthia Velazquez (BA '20) designed a mural at Calwa Park in Fresno, depicting a young Latino boy juggling a soccer ball while surrounded by bluebirds. Cynthia designed the artwork and a team of students from the University of North Carolina Chapel Hill helped bring the project together.
Taylor Moore (MBA '19, BA '16) is a staff accountant at Bitwise Industries in Fresno.
In 2022, Grace Spencer (MA '19 BA '13) and Beth Paz (BA '05) launched The PreacHER Academy—an online international preaching academy for women—in partnership with Danielle Strickland and The Women's Speaker Collective. The women learn to expand their skills, networks and opportunities from master speakers and internationally renowned pastors.
Meg Clark (BA '17) was listed among Central Valley arts advocate Donald Munro's Top 20 Cultural Events of 2022 for her portrayal of Belle in Beauty and the Beast at Roger Rocka's Dinner Theater in Fresno. "Clark has consistently delivered top-notch performances all around the central San Joaquin Valley, and in each one she finds something fresh and distinct. We're lucky to have her," he wrote in The Munro Review.
Cory Chapman (BA '16) was interviewed November 1 in The Porterville Recorder on his career as a California Highway Patrol officer.
Gabriel Hughes (BA '15) and Kelly Eichmann (CTE) were named Fresno County Educators of the Year in November 2022. Kelly is a career technical education teacher at Clovis East High School, and Gabriel is a student relations liaison at Weldon Elementary/Clark Intermediate. Honors were presented November 17, 2022, in a ceremony co-sponsored by the Office of the Fresno County Superintendent of Schools and the Educational Employees Credit Union. Kelly was described as a teacher "who sets the bar high for her students and then helps them leap over it" and Gabriel as someone "who is passionate about helping students."
Patricia Vazquez Topete (BA '15) appeared on Business Leaders with Lance Cardoza on KMPH (FOX 26) October 18, 2022. Once a farm worker, she is now a community relations manager at Citibank.
Angela (Mannino, BA '14) Delahoussaye's photography business, Angela Sue Photography, LLC, was a 2023 winner of The Knot Best of Weddings, an accolade for wedding professionals as reviewed by couples, their families and wedding guests on The Knot, a leading wedding vendor marketplace and planning authority. Angela and her husband, Michael, live in Morgan Hill, CA.
Nikki Donnelly (MA '14, TC '13, BA '08) and colleague Richard Price presented a research project at the Association for Behavior Analysis International's (ABAI) 11th International Conference in Dublin, Ireland. Their project was a qualitative interview study with caregivers of students with high support needs preparing to transition out of education.
Shannon Taylor (MA '14) was named head of the men's basketball program at the University of the Virgin Islands in September 2022.
Adam Blitz, CPA (MA '13) chairs CalCPA Education Foundation. Adam is founder of Streamline CPA Accountancy Corp in Fresno.
Gabriella (Ruiz, BA '10) Garcia, Psy.D., was appointed executive director of Storyteller Children's Center in Santa Barbara in August 2022.
Ashley Jett (BA '09) was named to the executive board of the Victoria (TX) Professional Express Network as vice president of membership in December 2022. She is pursuing her Master of Arts in Nonprofit Management from the University of Houston Downtown. Ashley plans to pursue a career in nonprofit management to make a positive difference in her community and the world.

The Rev. Noah Lawson
(TC '08, BA '06) was appointed rector (pastor/priest) at Emmanuel Anglican Church in Fresno on August 1, 2021.
Ken Melban (MA '07, BA '03) was named vice president of industry affairs and operations at the California Avocado Commission in October 2022.
Sharon Starcher (MA '07, BA '99), D.B.A., and Michelle Bradford, Psy.D., presented "Building a New Revenue Stream: Collaboration With Community Partners" at the ACBSP Region 7 Fall Conference in Nampa, ID, in October 2022. The presentation focused on community at FPU going beyond the campus as the School of Business now offers workplace education and training through its Business Insights (fpu.edu/businessinsights) series. These short videos, virtual discussions, workshops, seminars and trainings are a partnership between the School of Business and the Alumni Development Office. Sharon and Michelle, both members of the FPU business faculty, also provided training for project managers at Kern Health Systems, part of Kern Family Health Care. The training focused on change management, the people side of change, accountability and the importance of communication.
Yammilette Rodriguez (MA '06) is a Gallup Certified StrengthsFinder Coach and National Trainer at Youth Leadership Institute. In October 2022 she trained Capitol Fellows on their naturally gifted talents and how they can use them to serve California.
Efrain Tovar (MA '06, BA '95) is part of MetaMetrics' inaugural cohort of Lexile & Quantile Educator Ambassadors. Ambassadors represent the K-12 spectrum and provide insights to help shape the future of the tools and resources educators need. Efrain was selected from nearly 700 educators from all 50 states. He is a seventh/eight grade newcomers teacher at Selma Unified School District.
Suzana Dobri´c Veiss (MA '02, BA '99), Ph.D., assistant professor and program director for M.A. in Strategic and Organizational Leadership, co-authored the chapter "Leadership, Maturity, and Unity: An Analysis of Ephesians 4:1-16" in the book Biblical Organizational Spirituality (part of the Christian Faith Perspectives in Leadership and Business series), by Elizabeth K. Hunt, Ph.D. The book, published in July 2022, is edited by Joshua D. Henson, Ph.D., and published by Palgrave Macmillan. Suzana also wrote the chapter "Sensemaking in Alumni Entrepreneurs: Model for Entrepreneurship Friendly Climate" in the book The Importance of Developing an Entrepreneurial Mindset (Even if you Never Wish to Become an Entrepreneur). Contributing authors were from Belgium, Bosnia and Herzegovina, Croatia, Ireland, Slovenia and the USA. The book was edited by Anamarija Delic, Suncica Oberman Peterka and Julia Peric, and published in Croatia in 2022.
Kori James (Johns, TC '00, BA '00) is a history teacher and advisor for The Feather Online at Fresno Christian High School. She is also an adjunct instructor in digital photography at FPU.
Christopher Brownell (MA '99), Ph.D., was a visiting scholar with the Finnish Institute for Educational Research's Innovative Learning Environments group September-October 2022, working with the STEAM (Science, Technology, Engineering, Arts, Mathematics) education team. He is now the head of instruction for the National Museum of Mathematics (MoMath) in New York City. Chris taught full-time at FPU from 2000-2022.
Felipe Hinojosa (BA '99), Ph.D., was promoted to full professor at Texas A&M University.
Sean Peifer (BA '97) is the pastor at First Baptist Church in Taft, CA.
Margaret Mims (BA '95), who retired as Fresno County Sheriff in January 2023, received the Lifetime of Service Achievement Award at the State of the County luncheon. She started her law enforcement career as a Kerman police officer in January 1980, joining the Fresno County Sheriff's Department in 1983. She became the first female sergeant to supervise field patrol units as well as the first female lieutenant, captain and assistant sheriff before being elected sheriff in 2006.
Charles "Monty" Montgomery (BA '91) is the controller/director of human resources at Allwire, Inc. He has been there for 12 years and currently holds several different HR certifications: PHR, PHRca and SHRM-CP. He also a former board member of the Central California Society for Human Resource Management (SHRM) and the statewide CalSHRM.
Greg Sommers (BA '89), Ph.D., served as president of the Accounting Program Leadership Group section of the American Accounting Association this past year and led the organization's merger with the Federation of Schools of Accountancy. The new combined Leadership in Accounting Education section provides a voice and resources to support the critical activities of accounting education leaders. This summer was spent revising his Valuation Using Financial Statements textbook while trying to stay cool and celebrating his 30th anniversary with Susan (Phariss, FS '94) in Dallas, TX.
Donald Thiesen (BA '86) retired in 2020 after nearly 20 years as an accountant for the City of Madera. The same year his wife, Brenda Thiesen, retired from Fresno Unified School District as a buyer II. They were preparing to move to Iowa to be near her family when she suddenly died April 20, 2022, from complications from surgery.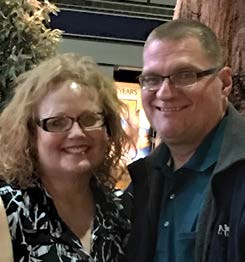 Stephen Penner (SEM '79, BA '71) published February Run, a book of poetry touching on universal themes of loss and love, injustice and wonder, life and death. It is available on Amazon.
Jim Hopkins (BA '78) pastor of Lakeshore Avenue Baptist Church in Oakland appeared on Mosaic on KPIX TV (CBS San Francisco) August 14, 2022, in a segment on Pentecost.
Rick Miles (BA '72) retired from his position at Christ Church on Capitol Hill Episcopal Church and resides in Kenai, AK.
Richard (BA '69) and Carol (Wallace, BA '70) Cornelsen have been married for 53 years, and their their two children have each been married 22 years. They are retired and live in Salinas, CA.

Weddings
Freddie Lopez (BS '19) married Brittany E. Michelle Acosta (TC '21, BA '19) on November 13, 2022, in Springville, CA.
Noemi Murillo (BA '16) married Jorge Saldana on September 30, 2022, in Temecula, CA. They reside in Bellflower, CA, and Noemi works as a medical hospice social worker.

Births

Brayden Malachi De Leon was born to Angel (BA '17) and Lora (Whitaker, BA '16) De Leon on September 27, 2022. He weighed 7 lbs. and 8 oz. and measured 19 3/4 inches.

Nick and Stephanie (Bogdanov, TC '17, BA '15) Sainato welcomed Jack Alexander Rae Sainato on September 6, 2022. He joins big brother James. Jack weighed 7 lb. 10 oz. and measured 19 inches. The family resides in Orange County, CA.
Ernest Michael and Nicole (Zalewski, BA '15) Hawn welcomed Ezekiel Michael on October 10, 2022.
Samantha (Domingo, BA '14) and Luke (BA '12) Arce welcomed Theodore Arce on May 12, 2022.
Deaths
Collette Marie Banks-Turner (BA '14) died July 4, 2022. Born in Merced, Collette worked for the Merced County Office of Education, Mariposa County Office of Education, Merced College and UC Merced in educational roles. She was active in Yosemite Church, Merced, and The Well, Modesto. Survivors include husband Jonathan Turner, three children, seven grandchildren and seven siblings.
Jesse Penner (MA '08), 40, died October 26, 2022, after a long struggle against brain cancer. While working in real estate alongside his father, the late Harold Penner (MA '76), he graduated from seminary to further develop his pastoral heart. He served at Youth for Christ for 24 years—first as a student leader and finishing as a board member. He and his wife, Allie, worked with high school students at The Well Community Church, and cared for pre-foster children through Safe Families for Children. His greatest joy was leading and loving his family with a God-centered focus. Survivors include Allie and their two children, Jed and Riley.
Former Sunbird women's basketball player and coach Diane Weise (Weststeyn, MA '96, BA '90), 54, died on November 30, 2022, after a long battle with brain cancer. Her husband, Paul, and her family were by her side. She taught and coached women's basketball at FPU from 1995-2005, becoming the all-time winningest coach in university history. She was inducted into the FPU Athletic Hall of Fame in 2014.
Kathleen Ann Perry (BA '84) died July 2, 2022. Born in Fresno, she spent most of her life in Kingsburg. Kathleen taught kindergarten at Kings River Elementary School and later preschool in New London, first in student homes, then in a recreational vehicle outfitted by First 5. She was also active in Kingsburg Evangelical Covenant Church. Survivors include husband John Perry Jr., four children and eight grandchildren.
Allen Warkentin (PBI '55), 90, died August 10, 2022. A native of Dalhart, TX, he grew up in Reedley and graduated from Immanuel High School. A U.S. Navy veteran, he worked as produce manager at Tops Market for over 25 years and retired from Nikkel Iron Works in 1998. He and wife Belva (PBI '53) met at PBI, married in 1953 and had three children who are all FPU alumni: Craig Warkentin (BA '79) (deceased), Donna Marie Warkentin Stover (BA '83) and Edie Warkentin (BA '83). The couple was active at Shafter Mennonite Brethren Church, attending for over 60 years. Survivors include his wife, two daughters and three grandchildren.
Arlene Klassen (PBI '50), 93, died July 17, 2022. A native of Winton, CA, she grew up in Shafter and Dinuba and graduated from Immanuel Academy in Reedley. She and Abe Klassen (PBI '45) married on October 20, 1949, and had three children, all of whom survive, along with grandchildren, great grandchildren and others. She spent many years as a substitute teacher and was active in Dinuba Mennonite Brethren Church. She and Abe also had a 20-acre farm before moving to Fresno and attending Butler Church.
Dale Matson, Ph.D., 78, died October 9, 2022, while following his passion of hiking in the Sierras. Growing up in Royal Oak, MI, he worked as a heavy equipment operator while he and wife Sandra Luecht raised sons Benjamin and Zachery in Wisconsin. Returning to school in the mid-80s, he earned a B.A. at the University of Wisconsin Green Bay, an M.A. from UW Whitewater and a Ph.D. from Marquette University before becoming a school psychologist and professor, joining the FPU faculty in 1993 and becoming a program director. Dale was ordained in the Episcopal/Anglican church in 2008 and became a priest in 2010. Survivors include wife Sharon and his two sons, two stepsons and seven grandsons.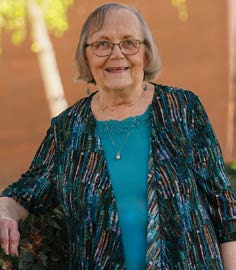 Edith Jost Thiessen (MA '12, BA '00), 78, died October 4, 2022. Born December 7, 1943, in Reedley, she grew up on a farm and graduated from Immanuel High School. While attending Pacific College from 1962-63, she met Ronald Thiessen. The two married March 14, 1964, and moved to San Jose. Shortly after they returned to Reedley in 1987, she began work as credential analyst in the department (later school) of education, retiring in July 2022. Edith was respected by her colleagues and in the wider field, where she led the statewide organization. Survivors include husband Ron, sons Eric (MA '96, BA '89) and Jeremy (BA '93) and their wives, Marcie and Eden, seven grandchildren, including Megan Spencer (BA '21), and three great grandchildren.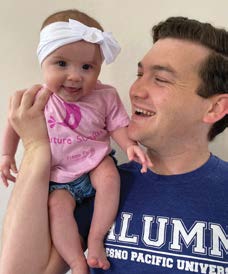 NEW MEMBERS OF THE FLOCK
Recently had a baby? Let us know— we'd love to send you one of our cute little Future Sunbird baby t-shirts, like Rowyn Henry is wearing, pictured here
It's so easy to let your classmates and friends know what's happening in your life—job, marriage, children, new address and awards. visit fpu.edu/alumniupdate