An Unusual Road to Advancement
Robert Jensen sees God's plan in mopping a gym floor, building a port or leading a college advancement effort.
My definition of advancement was broader than just fundraising: it included community relations and awareness.
Robert Jensen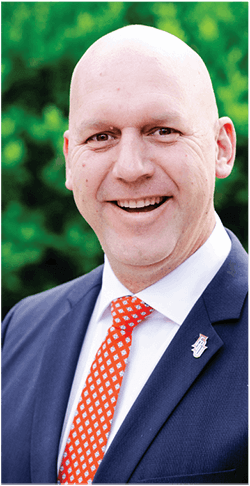 Director of major gifts and corporate relations since August 2018, Jensen comes to FPU from San Diego Christian College (SDC) by way of The Netherlands, and to higher education through the major construction and janitorial fields.
Growing up in San Diego, Jensen earned a B.A. at Biola University and an M.Sc. in Executive Leadership from the University of San Diego. He moved to The Netherlands in 1999 with wife Priscilla (now FPU women's tennis coach) and son Skylar.
There, Jensen worked for Maersk, the world's largest shipping company. "We built ports worldwide. It's a fascinating career you'd never know existed," he said.
When his mother's illness brought him back to San Diego, Priscilla suggested he stay and help care for her. Robert had been thinking of a change. "God was working on my heart for some time," he said.
Still, he had no job, and Priscilla and Skylar had returned to The Netherlands. At Shadow Mountain Community Church, Jensen ran into his old youth pastor, which led to a call from the church administrator offering him a spot as gymnasium janitor. SDC, then located on the church campus, shared the gym. "A couple years back, my ego would have been too big to accept the position," Jensen said. Now he sees it as God opening a door.
After four months cleaning the gym, SDC offered Jensen the chance to build the human resources, finance, IT and operations departments for the college as it moved to its own campus. By 2012 Jensen was a vice president and the next thing to build was advancement. "My definition of advancement was broader than just fundraising," he said. "It included community relations and awareness."
These roles prepared Jensen for his new position. He is passionate about FPU's commitment to vision, direction and the calling of urgency. "Now is the time; that's what I heard," he said