John E. Toews and Dalton Reimer have been talking since junior high in Reedley, CA. John's father, J.B. Toews, pastored Reedley Mennonite Brethren Church, where both families worshipped, and Dalton's uncle, Arthur Wiebe, was principal at Immanuel, where both young men studied. Not even John's polio quarantine stopped the conversation, as Dalton simply walked the two doors down Rupert Street to chat with his friend through the bedroom window. "We were talking constantly," Toews says.
Before these two teenagers turned 30, their conversations and the vision of community they grew up in would shape Fresno Pacific University. Along with a fresh generation of faculty and a bold president, they would help Pacific Bible Institute develop into Fresno Pacifc University. The pair would create the Fresno Pacific Idea, defining Pacific College, Fresno Pacific College and Fresno Pacific University. "We were extremely privileged to be in at the creation of something new," Reimer says.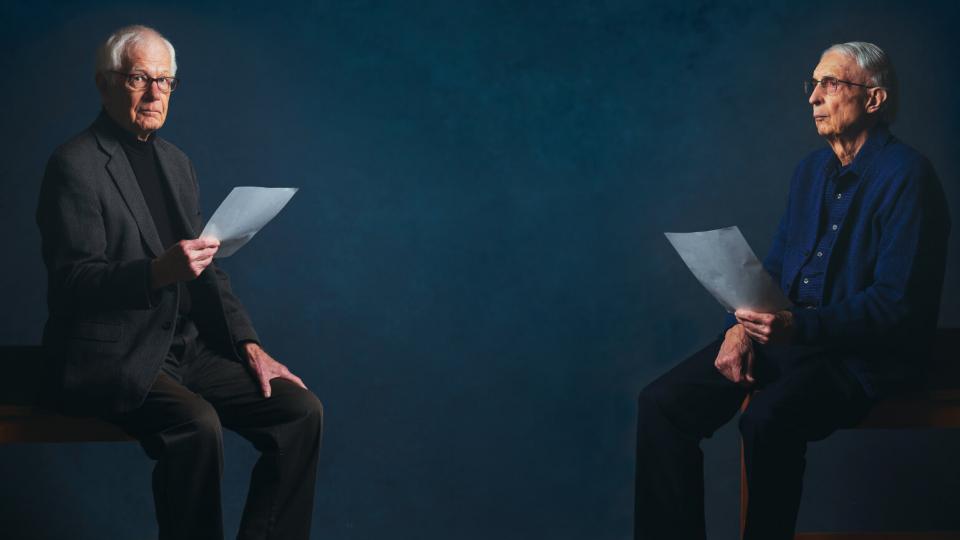 Dalton Reimer (left) and John E. Toews(right)
The Idea has had three editions: the 1966 original; a second from 1983, edited by Wilfred Martens, Ph.D., then English faculty, that included graduate programs; and the current, longest-serving, edited in 1994 by John Yoder, Ph.D., then graduate dean. First there were seven points: Christian, community, liberal arts college, experimental, Anabaptist-Mennonite, non-sectarian and prophetic. The second edition reduced those to Christian, liberal arts and community.
The story of the Idea began in 1960 when Arthur Wiebe, Ed.D., became president and Pacific Bible Institute became the two-year Pacific College. In 1965, Fresno Pacific awarded its first bachelor's degrees and received four-year accreditation from the Western Association of Schools and Colleges. Over his 15-year administration, Wiebe built a core faculty that would serve into the 1990s. Reimer, 23, was Wiebe's first hire in 1960 as communication faculty, and Toews, 24, joined in 1961 to build the biblical studies department.
Growth demanded direction, so Wiebe started a planning process in February 1966 involving faculty and administration. Planning required committees and subcommittees, andToews and Reimer were the subcommittee charged to write a planning statement. "We were a young faculty trying to sort out what does it mean to be a Christian college, and more importantly what does it mean to be an Anabaptist college," Toews says.
Several streams fed Reimer's and Toews' new discussions: their experiences as small-town boys at large university graduate schools—Wichita State for Toews and Northwestern for Reimer—the optimistic spirit of change in the mid-sixties and the Anabaptist renaissance sparked by Harold S. Bender's "The Anabaptist Vision." Bender said the theological ideals of the Reformation Anabaptists, such as discipleship, community and pacifism, remain relevant in modern times.
The Idea was born out of the desire to create an educational community where followers of Jesus would actively engage both the culture and church in love and reconciliation rather than reacting out of fear. Fresno Pacific would be a place where ideas may be explored within the context of Christian higher education regardless of how those ideas might be received by others. "It was the notion of discipleship as defined by following Christ," Reimer says.
Pen met paper at a meeting of the Council for the Advancement of Small Colleges in the summer of 1966 in Rochester, N.Y. Toews and Wiebe attended. "One of the things they stressed in the sessions I went to was the need to have a purpose or mission," Toews says.
None of us had the sense that it would become this important document.
John E. Toews
The conference ended at noon, and Toews wrote the first draft of the Idea in his hotel room; he made revisions after dinner with Wiebe. Back in Fresno, Toews gave his handwritten draft to Reimer, who gave input and typed the draft so it could be read by the planning committee in August and by the full faculty in September. "Everyone made suggestions," Toews says, and he and Reimer did the final editing. "It became the document for long-range planning."
Toews and Reimer agree Wiebe gave the faculty freedom in academic matters. "He was the numbers guy," Toews says. "He laid out excellent enrollment and faculty projections." Those projections spurred rapid enrollment growth and foreshadowed much of the present main campus.
Reimer would watch that happen over 42 years on the Fresno Pacific faculty and administration, retiring in 2002 but continuing part-time in the Center for Peacemaking & Conflict Studies until 2014. Toews would leave Fresno Pacific in 1968, then return in 1977 to teach at the seminary. In 1995 he would become president of Conrad Grebel University College, retiring to Fresno in 2002.
Both smile when looking back. "None of us had the sense that it would become this important document," Toews says.
Cooperation was the key, Reimer says. "This was to be a process of the entire faculty and administration. It reflects a concept of community."
Read the Idea at fpu.edu/idea.
For more background, read Mennonite Idealism and Higher Education: The Story of the Fresno Pacific Idea, edited by Paul Toews, Ph.D., and available in Hiebert Library.
Watch the interview with John and Dalton at fpu.edu/ideatalk.