A pair of FPU's newest retirees agree that relationships are what endure.
The Face of the Library
For more than 34 years, Hiebert Library and Anne Guenther have been inseparable, with her constant presence and friendly face for generations of patrons.
As natural as her career seems now, it was not Guenther's intent. "In my first life, in Canada, I was an elementary school teacher for 20 years. Never in my wildest dreams did I think of becoming a librarian," she says.
Guenther and husband Allen, Ph.D., brought their sons to Fresno in 1981 when Allen, who died in 2009, became professor of Old Testament at what is today Fresno Pacific Biblical Seminary. Anne began the process of becoming a teacher in California, but now says God had other plans.
Hiebert Library had purchased a shipment of books without the staff to organize them. Always looking to serve, Anne volunteered. She was soon hired as a para-professional and then asked to consider returning to school. Anne earned a Master of Library Science at San Jose State University.
The rest really is history, with Anne retiring in December 2016 as the longest-serving university employee at the time. "None of us know what a library is like without Anne," says Library Director Kevin Enns-Rempel (BA '82), who joined the staff as an archivist in 1984.
People remain the same.
Anne Guenther
I just fall in love with these kids; my kids.
Arnie Prieb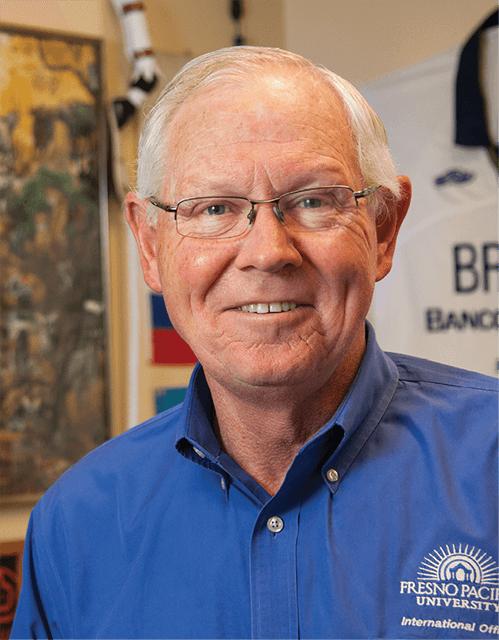 A Heart for International Students

Flags, jerseys, and other memorabilia decorate Arnie Prieb's office and spill into the Steinert Campus Center hallway. Prieb, who retires as director of the International Programs & Services Office (IPSO) in June 2017, does not collect these items—they are tokens of gratitude and reminders of his influence on students from more than 40 nations.
After receiving his B.A. in Biblical Studies in 1974, Prieb returned to his home country of the Democratic Republic of Congo and his parents' vocation of missionary work. Arnold (PBI '50) and Rosella Prieb spent 30 years as missionaries there, raising five children. The third Prieb son spent two years with Mennonite Brethren Missions (MBM) before earning his M.A. in World Missions from the then-Mennonite Brethren Biblical Seminary.
After his master's, Prieb returned to MBM and Congo. He calls the next seven years, "some of the best years of my life."
While known for his work with international students, Prieb's first job at the corner of Chestnut and Butler avenues was seminary groundskeeper in the early 1990s. His talents soon recognized, Prieb became the seminary's first recruiter. He later did the same for Fresno Pacific's degree completion program. In 1999, Prieb moved to IPSO.
Prieb and wife Brenda, a former FPU staff member in the Graduate Degree Completion Office, have a blended family of five adult children and nine grandchildren living in California, Washington State, Iowa and New Mexico.
In about 60 years of combined service Guenther and Prieb have seen change, but they remember what endures. "People remain the same," Guenther says.
"I just fall in love with these kids; my kids," Prieb says. "I feel so honored."