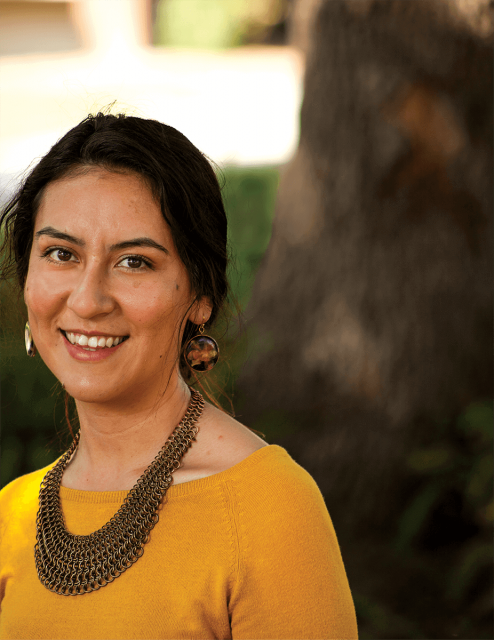 Mirella Estela Mata knows the power of the right friends.
The Southeast Fresno native felt adrift after two years at Fresno State University. She still wasn't sure her major—criminology/victimology—was what she wanted, or even what it entailed. She was sure she needed a group of Christians her own age.
Joining the Micah Project, a residential discipleship program operated by North Fresno Church-Mennonite Brethren, gave Estela support and led her to FPU. Her Micah Project mentor was Cindy Jurado, FPU director of College Hour and chapel programs.
Jurado was not Estela's first contact with FPU, as her mother, Socorro M. Acosta, earned her B.A. through the degree completion program. With Jurado's encouragement, Estela enrolled and eventually changed her major to social work, graduating in May 2017. Growth that started at the Micah Project continued at FPU. "God couldn't have come up with a more perfect plan than to start there and bring me here," Estela says.
FPU deepened "the practicality" of Estela's faith, which she credits to the Mennonite Brethren influence. Estela grew up an uninvolved Roman Catholic. After her family started attending a Hispanic Baptist church, Estela came to understand Jesus but was uncomfortable with what she calls a heavy focus on evangelism and very conservative outlook. "I felt stuck in that sense," she says.
At FPU, Estela has become very involved with the Office of Spiritual Formation as a student worker and part of the College Hour Team, Multicultural Scholars and Asian Fellowship. She is also a student representative to the West Coast Mennonite Central Committee Board and has an internship with the Fresno Police Chaplaincy. "FPU has a really unique way to give people a voice," she says.
Mirella and husband Justin Mata even come to church at FPU. They attend New Beginnings Community Baptist Church, which meets on the main campus and is pastored by University Pastor Angulus Wilson, Ph.D.
Thanks to the right people, Estela is off the "rough path" she was on toward becoming a "typical college party young adult." "I've been able to feel confident in my faith as my own," she says.
Do you know a student who has been transformed at FPU? Contact Wayne Steffen at wsteffen@fresno.edu