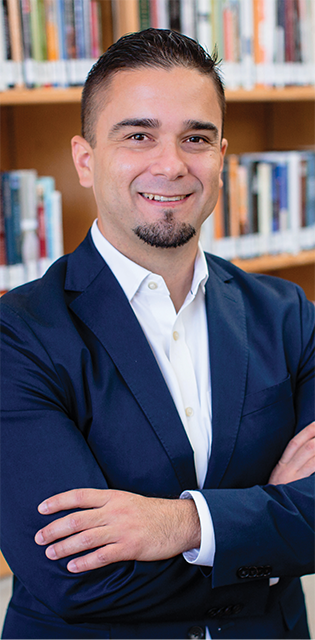 Mennonite. Latino. Activist. Teacher. Author.
This collection of titles may occasionally seem at odds with each other, but Felipe Hinojosa (BA '99) embraces them all, sparked by his time at Fresno Pacific University.
Now an associate professor and director of undergraduate studies in the history department at Texas A&M University, Hinojosa returned to the main campus March 16-17, 2017, to speak to first-generation students and others as part of the Advancing Latino Academic Success (ALAS) Lecture Series. His talks touched on his experience as a first-generation college graduate as well as his current work.
Born and raised in predominantly Latino Brownsville, TX, Hinojosa experienced culture shock at FPU in the mid-1990s. "Every faculty member I saw was white, the campus was overwhelmingly white. There was always the sense that we felt like outsiders, that we had to struggle to belong to be part of that Fresno Pacific Idea we talk about," he says.
The English major became a student activist. Although Hinojosa admits some considered him too vocal and radical, others listened, including then-president Allen Carden, Ph.D. When the university was criticized by its accreditor for the lack of student and faculty diversity, he says, Carden asked him to serve on a committee that explored how to respond and work toward making necessary changes.
Carden's decision helped set Hinojosa on a career. "For him to put me in that group, to work with faculty and staff that I had a tremendous amount of respect for, helped me think about how you organize social change at educational institutions," Hinojosa says. "What I'm doing now, and what I'm writing, comes out of my time at Pacific."
"He was a very articulate and competent voice for more diversity at FPU," says Carden, now professor of liberal arts and history and degree completion academic coordinator. While Carden takes no credit for the increase in student diversity since the turn of the century, "I did have a heart for more diversity, and saw in Felipe a student kindred spirit," he says.
The role of religious leaders is imperative, and we need it now more than ever.
Felipe Hinojosa

Today's FPU student body is more representative of the region, though leaders agree there is still work to be done on the faculty front. About 24 percent of traditional undergraduate students are from a Hispanic background, along with 30 percent of those in the adult degree completion program and more than 19 percent of graduate students, according to fall 2016 figures. The graduation rate for first-time, full-time students is 55.6 percent in six years and the rate for Hispanic students 56.3 percent, based on 2016 figures. The university is also an Hispanic-Serving Institution, included by The Chronicle of Higher Education among the top 10 of the nation's HSIs in graduating Hispanic students.
For his part, Hinojosa went on to a Master of Arts in History from University of Texas Pan American and a Ph.D. in History from the University of Houston. His primary academic interest is the intersection of race and American religion and social movements; specifically Hispanic Americans and Latinos.
Hinojosa's background as a Latino Mennonite—his father was a Mennonite minister—and student activity formed the basis of his first book, Latino Mennonites: Civil Rights, Faith, and Evangelical Culture, which looks at connections between religion and identity for Latino Mennonites. His current research is focused on the relationship between the church and activist groups and "how Latino Christians learn from activists that would have rejected the church entirely," he says.
While a large body of work is dedicated to the role of the church in African American activism, relatively little has been written about the place of Latino faith communities. "Latinos have been just as involved, but they have been much more geared toward questions around citizenship and sanctuary. Latino churches became sanctuaries for immigrants from Latin America, and that sometimes means you can't be as outspoken," Hinojosa says.
These are the stories Hinojosa wants to tell. "I want to find out how is it that people understood and read the Bible, and how that motivated them to get involved in civil rights struggles. It wasn't just the Bible, it was what they were learning from Cesar Chavez and Martin Luther King Jr. and civil rights leaders in the streets. I'm interested in exploring how the church and society have interacted over time. I'm looking at it as a very integral part of our daily lives even if those people don't go to church," Hinojosa says.
Current events, including the Syrian refugee crisis and the new presidential administration's position on undocumented residents and immigration, make Hinojosa's work timely. "The role of religious leaders is imperative, and we need it now more than ever," he says.
As for Hinojosa, well, his activist days aren't exactly behind him. "This is a huge campus," he says of Texas A&M, "but I'm still very much involved in the ways that I was at Fresno Pacific. Nothing has changed except the title."
Or titles.