Winning More Than a Game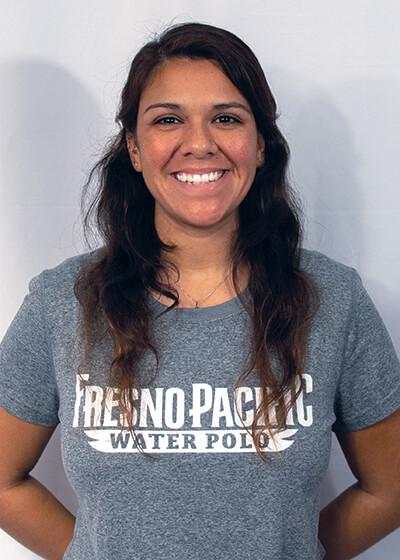 Samantha Witt (BA '20) spent four years playing water polo for Fresno Pacific University, and now she wants to spend a lifetime serving as a missionary. Witt went to the African nation of Malawi in 2017 on a short-term mission. She taught Bible lessons to children and befriended traumatized adults in a crowded refugee camp. "Hearing what they'd been through shattered my heart," Witt says. "Knowing I could be a listening ear for them and bring some hope reinforced what I want to do with my life." Witt and other FPU student-athletes see a world in need, and they step into the gap because of their faith. Some envision careers in which they can influence people for God in the classroom or medical office. Some want to be full-time missionaries. They all encounter professors, mentors and peers at FPU who support their desire to evangelize—sometimes with words, other times with actions.
Relying on God
Michael Warkentin (BS '20) went to Guatemala with his church, Reedley Mennonite Brethren, in high school, and he connected with village children through sports— an experience that influenced him to become a physical education teacher. He played baseball for FPU and served as vice president of the Student-Athlete Advisory Committee. "I know that God wants me to help further his kingdom," he says. "I've always felt my purpose is to reach the people I meet through sports."
Warkentin saw his faith strengthened during a sports- oriented mission trip to Colorado in 2019. An Athletes in Action training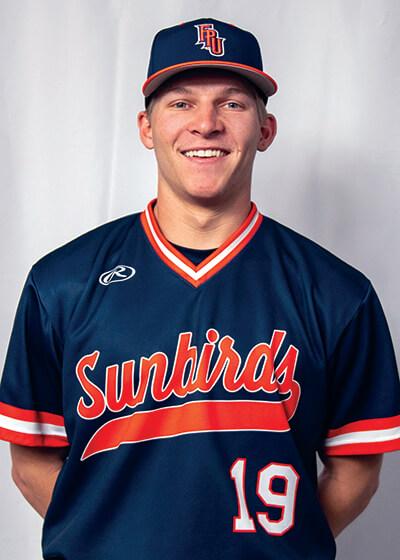 camp tested his stamina with physical challenges that seemed overwhelming. "I had to find ways to rely on God like I never had before," Warkentin says. "There were times when I thought I couldn't keep going. Then I prayed and realized that when I think that, God allows me to go on." Warkentin plans to intern at one of the training camps this summer.
His FPU teammate—sophomore Jack Foote—will travel to Alaska this summer to play on an Athletes in Action team. Besides competing in 40 to 50 games, Foote and others will participate in daily Bible studies and community service projects. "I know the baseball will be fun, but the learning will help me grow as a Christian," Foote says.
Foote, who's from Lemoore, hopes to become a nurse practitioner and integrate his faith into his profession. "If you make your work your mission, you're serving those around you and serving the Lord. That's why you were put on earth," he says.
Losing Her Home
Witt started thinking of traveling the world when she listened to the stories of her father, a former Marine. His journeys captivated his youngest daughter, and she twice went to Costa Rica on mission trips while in high school near San Diego. "I learned on those trips how universal God's love is, and how God can use you in different countries," Witt says.
After she came to FPU, she began working at Fresno Interdenominational Refugees Ministries (FIRM) where she heard the stories of Hmong, Lao and Syrian refugees. Serving people from around world focused Witt on becoming a missionary. She has particular empathy for displaced persons because of her family's experience during the recession of 2007-09. In seventh grade, Witt arrived home one day to find a foreclosure notice on her family's house. Job loss made it impossible for her parents to pay their mortgage, and the family had to briefly live apart after they lost their home. Witt stresses that her story pales in comparison to what refugees of war and oppression have suffered but adds: "It made me who I am."
Her family eventually regained its economic footing, and Witt found courage to talk about that dark time— and God's provision—in her testimony. She did so on the Malawi trip, which was sponsored by MB Mission (now known as Multiply). Witt forged a memorable connection in Malawi with an 8-year-old girl in a white dress with red polka dots who initially held back among the many children. "People can feel so unnoticed when they're in a refugee camp. There are so many people, and everyone fends for themselves," Witt says. She kept reaching out, and the girl eventually responded with hugs. "She was the hardest good-bye when I left."
Scary and Exciting
In 2018, Witt again went overseas, this time to Israel on an FPU study abroad trip. At the Golan Heights, she looked into Syria, which deepened her connection to the Syrian children she helps tutor in Fresno.
Witt appreciates the travel and service opportunities she's had at FPU, as well as leadership opportunities. She served as president of the Student-Athlete Advisory Committee in 2019-20. She's also grateful for mentors who have encouraged her desire to be a missionary: Darren Duerksen, Ph.D., associate professor and program director of intercultural and religious studies; Ken Martens Friesen, Ph.D., associate professor of political science; and Brian Davis, associate pastor of spiritual formation. "They have taught me so much about the world and my place in God's plan," she says.
Wherever Witt goes as a missionary, she will go with her husband. She and Seth Jordan, a student at Fresno Pacific Biblical Seminary, plan to marry two weeks after her graduation this May. "We're open to where God calls us," she says. "It's a process of learning to listen and be led by the spirit. It can be scary at times, but also exciting."