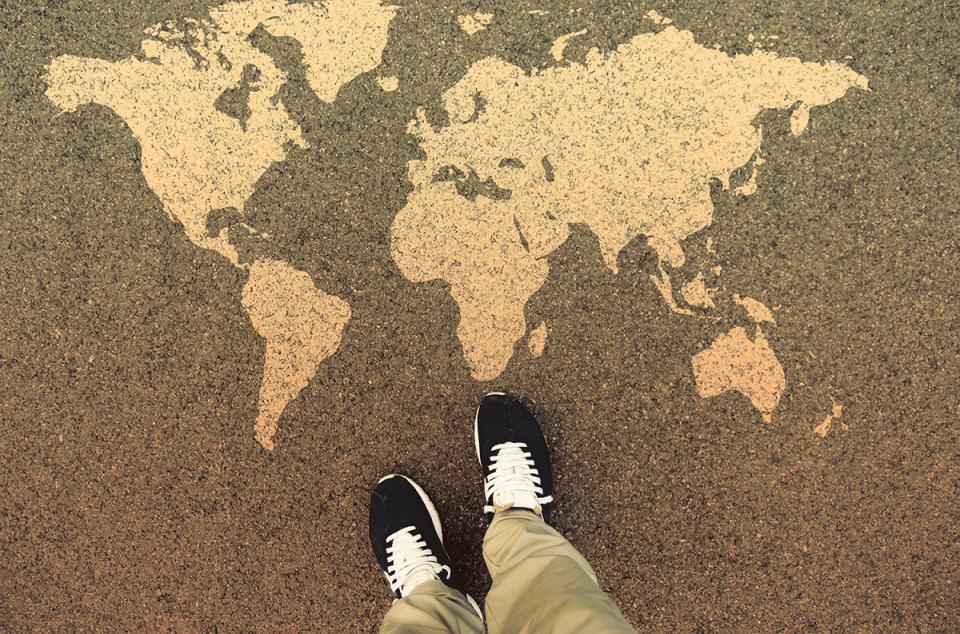 Three students interviewed for this article—Angel, Eduardo and Monserratt—are part of the federal DACA program and asked to be identified by their middle names.
—Editor
Angel closes his eyes, bows his head and begins to pray aloud with confidence and conviction during a student Bible study at Fresno Pacific University.
He leads the study once a week and goes home on weekends to teach Sunday school. Home is a small city in the San Joaquin Valley where his parents brought him from Mexico when he was a child.
In a turbulent time in America, FPU remains committed to serving Angel and other students from immigrant families. The university has long welcomed newcomers to this nation—people from different corners of the world who have come in different political seasons. All share a common desire: to receive a Christ-centered education that respects and nurtures their faith while equipping them for the future.
Angel—a slender 19-year-old sophomore with a shock of black hair and an easy smile—sees his future in business. But, he cares about more than a career.
Believing it's a privilege to attend FPU, Angel feels a responsibility to serve his family, his Christian brothers and sisters and other students participating in the federal Deferred Action for Childhood Arrivals (DACA) program. DACA is an Obama-administration policy temporarily protecting from deportation immigrants illegally brought to this country as children.
Angel's faith is deep, and his words come easily as he prays at the Bible study: "Heavenly Father, we come before you as a family of faith and thank you for this week you've given us. In the midst of our pain and troubles, you didn't stay in the tomb. You brought us life. Who would we be without you?"
a history of helping
Through the years, FPU has supported students from immigrant families with scholarships, academic assistance, career counseling and travel opportunities. Just as important are the professors, staff and alumni who help immigrant students from Russia, Laos, Mexico and elsewhere find their way to FPU and offer counsel and friendship.
One of those alumni is Melissa Bergen (BA '04), now a student at the Fresno Pacific Biblical Seminary. She serves as local missions director at Shafter Mennonite Brethren Church and pastor at Iglesia Compañerismo Cristiano, another MB congregation in Shafter. Bergen has worked tirelessly to help several Shafter students from immigrant families attend FPU. She believes caring for people who are searching for better lives is rooted in the Bible and Mennonite history.
Bergen notes that the Old Testament book of Ruth tells the story of how Naomi, her husband and their sons fled to Moab as refugees in search of food (Ruth 1:1). "Naomi and her impoverished family could have starved to death while waiting for visas," Bergen says. "I have heard similar stories from recent immigrants I have come to love—stories of not being able to feed their children before they came to the United States."
And, when Naomi and Ruth returned to Bethlehem, they depended on other people to survive. "These grandmothers of Jesus were welcomed as immigrants as they settled in a new place. The hospitality offered by their new community helped them survive," Bergen says.
Furthermore, Mennonite history includes chapters of persecution and church members seeking peaceful places to live and worship. That search led Bergen's family to Shafter nearly 100 years ago. They were sojourners, she says: "And it's the same for so many now."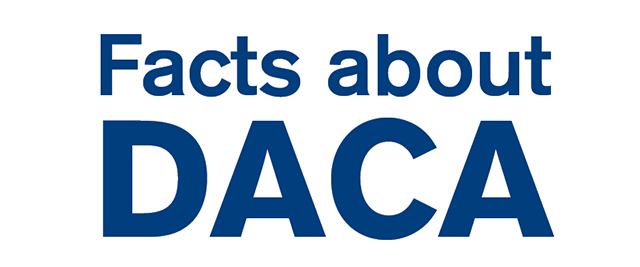 Scholars have an average
HS GPA of 3.95
92% are Hispanic,
5% are Asian and
3% are other
Most graduate in
less than 4 years
Eduardo's story
Eduardo is an easygoing, lanky 19-year-old freshman who often wears a baseball cap over his curly hair. He and his family came to Shafter from Mexico when he was 7. He is one of about 30 DACA students at FPU in 2016-17, says Dina Gonzalez-Piña, M.A., former dean of multicultural ministries and now a national staff member for Mennonite Central Committee.
Eduardo's journey to FPU began when a high school friend invited him to the Shafter MB Church, where he was eventually baptized and became the congregation's first DACA member. It's also where he met Bergen.
Normally open, Eduardo grew uncharacteristically somber at the end of high school, believing that universities would reject him because he had no Social Security number. At his lowest, Eduardo accepted that he might become a welder like his father or a field worker like his mother. Both jobs are honest work, but not the step ahead Eduardo envisioned for himself and his brother and sister in the United States.
Meanwhile, Bergen encouraged him to apply to Fresno Pacific, and he was both hopeful and anxious when he submitted his application. Soon an FPU counselor called and encouraged Eduardo to apply for the Samaritan Scholarship, which the university first awarded in fall of 2002 for gifted undocumented students. Bergen drove him to Fresno for the scholarship interview, and she was so nervous waiting for him that she became nauseous.
In awarding the competitive scholarship, FPU officials consider a number of factors, including a student's academic performance and Christian commitment. "Fresno Pacific became a trendsetter when it introduced the Samaritan Scholarship," Gonzalez-Piña says. It was the first of its kind in the Central Valley and among members of the Council for Christian Colleges and Universities, she adds.
Sixty-five students (including those currently enrolled) have received the Samaritan Scholarship. In 2016-2017 FPU budgeted $200,000 for the program, about 1.5 percent of the $13.5 million that the university set aside for all institutional scholarships (academic, athletic, music, drama and other awards that do not involve state or federal funds) this academic year. (California made DACA students eligible for Cal Grant scholarships, which are included in aid packages.)
On a spring afternoon in 2016, Eduardo cried when Bergen came to Shafter High to tell him he'd been awarded the Samaritan Scholarship. While pursuing a biology major, Eduardo is growing spiritually at FPU. Before his baptism, he says, he would pray at night without knowing who he was praying to. Now, he has a deeper understanding since taking a class from Quentin Kinnison, Ph.D., associate professor of Christian ministry. "Jesus was sent here to reset what Adam and Eve had caused," Eduardo says.
escaping religious persecution
Unlike Eduardo, Yuriy Andreyev (BA '04) came to FPU with a deep Christian background. He was a 19-year-old son of a Russian pastor whose family immigrated to the United States in 1998 to escape religious persecution. They settled in Sacramento as documented immigrants.
Andreyev felt comfortable at FPU because fellow students shared his culture and spoke his language. "The fact that it was a Christian school was a bonus," he says. Andreyev attended for five years—growing proficient in English, making American friends and understanding more about the United States.
FPU's financial support was important. "My family wasn't rich," Andreyev says. "We came here with $1,000 in our hands." He received a scholarship from FPU to supplement state and federal grants plus loans.
Andreyev majored in business administration with an emphasis in finance and accounting. Now 36, he is a senior financial analyst for Boeing in Seattle, where he lives with his wife Natalie (they met at FPU) and their two children.
Longtime FPU employee Vyacheslav Gladysh played a key role in bringing Andreyev and more than 300 other Slavic students from the former Soviet Union to FPU in the late 1990s and early 2000s. As an admission counselor (he's now in financial aid), Gladysh visited Slavic churches on both coasts and in the Midwest, helping skeptical immigrant parents understand FPU would nurture their children's faith, not tear it down.
"To send a child to university in the Soviet Union was like losing a child to the world," he says. "The education system was based on atheism."
FPU "opened doors to so many opportunities" for these students, Gladysh says. "They became prepared for life in their new country, and it was the right place for them to grow academically and spiritually, and to use their gifts for ministry."
voices in the villages
Other students from immigrant families have connected with their pasts through FPU's study abroad programs.
Coua Lee went to Southeast Asia in 2011 and visited several Hmong villages in the mountains of northern Vietnam. She traveled with Ken Martens Friesen, Ph.D., associate professor of international studies, and other FPU students.
Lee's parents lived in a similar village in Laos before fleeing communist rule and immigrating to Fresno, where she was born. "As a Hmong-American, I wanted to experience what it was to be a Hmong person in Southeast Asia, where we originated," Lee says. "I really value my parents, and I wanted to put myself in their shoes."
Friesen was deeply moved as he witnessed the link Lee and other Hmong-American students made to their heritage. "It was an amazing moment of wonder," he says.
Lee, now 25, moved to Minneapolis after attending FPU for two years, finishing her education at the University of Minnesota. She works as a case coordinator for Minnesota Adult & Teen, a Christian nonprofit that addresses the physical, emotional and spiritual needs of people with chemical addictions.
Another FPU student—a woman named Monserrat—had her own transcendent experience while traveling to Guatemala last summer with others from Fresno Pacific. Monserrat, a Tulare senior who wants to become a nurse, traveled with other DACA students. Her Samaritan Scholarship did not pay for the trip; she raised her own money.
Monserrat—articulate, serious and committed to her Catholic faith—says the Guatemalans are poor in possessions but have rich spiritual lives. "It strengthened my faith to see the humility of the people and their desire to worship God when they don't know where their next meal is coming from," she says. "We start doubting God when one thing goes wrong, but they don't. It's very inspirational."
Gonzalez-Piña, the former dean of multicultural ministries, and Cindy Jurado Hernandez, M.A., director of FPU's College Hour & Chapel Program, led the trip. At FPU, Gonzalez-Piña worked closely with DACA students, and many found her counsel and friendship invaluable.
"Dina's always been on the front line of protecting us," Monserrat, 21, says. "It's definitely been a hard time because of the new national administration. But because of her, I can proudly say I was born in Mexico and not be fearful of what people will think."
I think God has a plan for everyone, and you have to let Him work it out.
Christian Douangphouxay
digging deeper
FPU student Christian Douangphouxay —who was born in Laos and came to the United States at age 8—found another kind of support from Dave Wainscott (BA '86), M.Div, adjunct instructor of biblical and religious studies. At the Visalia Center, Wainscott was Douangphouxay's teacher for Jesus and the Christian Community. "I think I had the hardest time of all the students in learning the Bible," says 44-year-old Douangphouxay, a degree completion student. His parents are Buddhist, and he converted to Christianity as an adult before enrolling at FPU.
In Wainscott's class, Douangphouxay wrote a paper for his final assignment about the connection between faith and work. In it, Douangphouxay had to address how the Gospel of Matthew and other material informed his understanding about the choice of a career.
Wainscott kept challenging Douangphouxay—without criticizing him—to dig deeper as he rewrote his paper multiple times. "Dave is very supportive in trying to get the real passion from you," says Douangphouxay, who completed his bachelor's in business administration and is now working on a master's degree. He currently is the chief technology officer for the Santa Rosa Rancheria in Lemoore.
Douangphouxay's goal is to one day teach, which he sees as a form of Christian service and a way to motivate future generations. "I think God has a plan for everyone, and you have to let Him work it out," he says.
not giving up an opportunity
Patricia Vazquez Topete (BA '15) had a goal, too. Near the end of her four years at FPU, she wanted to participate in a semester-long public policy internship in Washington, D.C. It fit perfectly with her major in political science.
But, she didn't have the necessary funds, and her Samaritan Scholarship would not cover the internship. Challenges were nothing new to her, though. She has not seen her parents since she was 12—she's now 23—when they sent her from Mexico to live with relatives in Fresno. Still she graduated first in her class at McLane High School.
While at FPU, Vazquez Topete cleaned houses and picked strawberries to pay for room, board and books. Never a quitter, she listened when Bret Kincaid, Ph.D., associate professor of political science, challenged her not to throw away an opportunity without fighting for it. So she cleaned more houses, spoke to groups and raised the necessary $15,000. Once in Washington, she networked beyond the internship, seeking mentors who worked on social justice issues.
Her interest in such issues was nurtured at FPU by Gonzalez-Piña. "She encouraged me to become active in my community, to share my story, but above everything else, to never forget where I came from," Vazquez Topete says.
After graduation Vazquez Topete worked at the university for one year, counseling DACA students like herself who are the first in their families to attend college. She now lives in Sacramento and works in a state agency through a public policy fellowship. Her next goal is a master's degree and a position developing public policy to improve the lives of immigrants and their children.
Vazquez Topete has found new mentors since graduating, but she will never forget Kincaid and Gonzalez-Piña at Fresno Pacific. "They are now lifelong friends," she says.
praying in unity
Angel, the Bible study leader, believes the lives of his parents and siblings are in the hands of God. "It was the will of God for us to come to the U.S. and get to know him better and accept Jesus as our personal savior," he says.
He believes attending Fresno Pacific also is part of God's plan. He received a Samaritan Scholarship, and, he says, "Words can't describe the gratitude I feel. All I can say is 'Thank you.' "
Angel also appreciates the chance to grow spiritually as a Bible study leader. "Leading has been a wake-up call about taking on a responsibility and being open and listening," he says. Another piece of FPU's faith-based education—professors and students praying together in class—is special.
"We come from a variety of faith beliefs," he says, "but it's reassuring to know that we're in this together."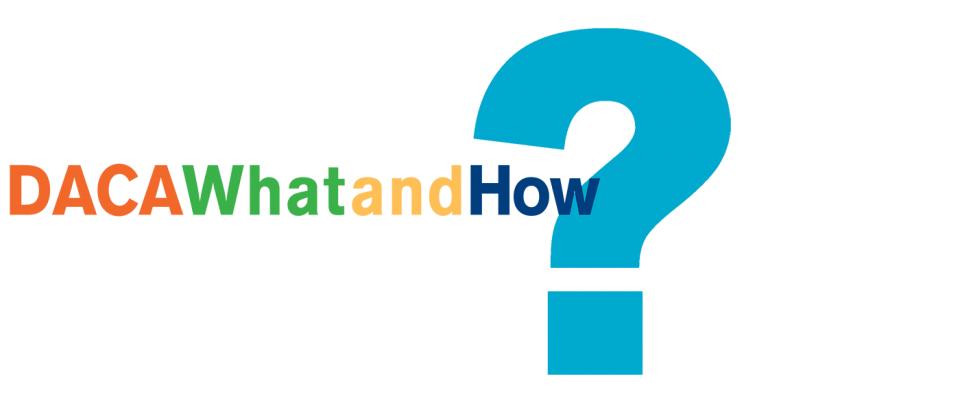 DACA is a term often in the news.
What does it stand for and how does it work?
Short for Deferred Action for Childhood Arrivals, DACA allows qualified undocumented young people to work legally, and temporarily protects them from deportation. The policy does not provide permanent legal residence.
Former President Barack Obama established DACA through executive order in 2012. As of mid-March, President Donald Trump has not announced any decision on the program.
Approximately 750,000 people—roughly 238,000 in California—have registered under DACA. About 30 students with DACA status enrolled at FPU in the 2016-2017 academic year.
To get the status, applicants must:
Live in the U.S. but have no legal status as of June 15, 2012
Be younger than 31 as of June 15, 2012
Have come to the U.S. before their 16th birthday and have lived here
continuously since June 15, 2007
Be in school, have graduated from high school or have been honorably
discharged from the U.S. Air Force, Army, Coast Guard, Navy or Marines
Have no felony or significant misdemeanor convictions
Pose no threat to national security or public safety
DACA students pay all normal payroll taxes on their wages. Furthermore, California passed legislation allowing successful DACA applicants to apply for driver's licenses.
Monserrat applied for DACA because "it gave me a chance at feeling 'normal' and being part of this country. Being born in Mexico was always a lingering issue that somehow placed me in another category compared to my peers," she says. She also believes DACA paved the way for her to work and secure internships.
Angel says DACA gave him a "sense of hope and opportunity" besides allowing him to get a work permit and a driver's license and "most importantly to continue my education."
Doubt about the future of DACA has affected Angel and Monserrat differently. Angel says he feels "at peace" and is calm because he believes President Trump "wants to do good for this country."
Monserrat calls the uncertainty "extremely challenging." "Every morning before going to class, I search 'DACA' on Google to see—if while I was asleep—my future and status have been changed," she says.